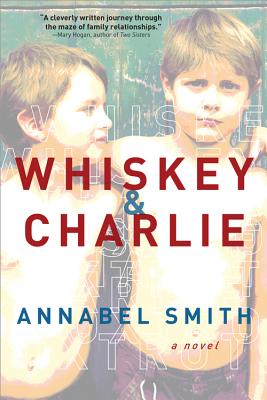 Whiskey & Charlie
Paperback

* Individual store prices may vary.
Other Editions of This Title:
Digital Audiobook (4/6/2015)
Compact Disc (4/7/2015)
MP3 CD (4/7/2015)
Compact Disc (4/7/2015)
Description
"A sharp, perceptive novel about family and forgiveness, Whiskey & Charlie will stay with me for a very long time." Christina Baker Kline, #1 New York Times bestselling author of Orphan Train
With the poignancy of Tell the Wolves I'm Home and the fraught tension of The Burgess Boys, Whiskey and Charlie is a captivating novel of brothers who have drifted apart-and the accident that will determine their future. Told as a seesaw of hope and fear, this novel explores the dark truths about what family really means to us.
Whiskey and Charlie might have come from the same family, but they'd tell you two completely different stories about growing up. Whiskey is everything Charlie is not -- bold, daring, carefree -- and Charlie blames his twin brother for always stealing the limelight, always getting everything, always pushing Charlie back. By the time the twins reach adulthood, they are barely even speaking to each other.
When they were just boys, the secret language they whispered back and forth over their crackly walkie-talkies connected them, in a way. The two-way alphabet (alpha, bravo, charlie, delta) became their code, their lifeline. But as the brothers grew up, they grew apart.
When Charlie hears that Whiskey has been in a terrible accident and has slipped into a coma, Charlie can't make sense of it. Who is he without Whiskey? As days and weeks slip by and the chances of Whiskey recovering grow ever more slim, Charlie is forced to consider that he may never get to say all the things he wants to say. A compelling and unforgettable novel about rivalry and redemption, Whiskey & Charlie is perfect for anyone whose family has ever been less than picture-perfect.
"A finely crafted novel that keeps us reading because we care about the characters. It's a terrific book."--Graeme Simsion, New York Times bestselling author of The Rosie Project and The Rosie Effect
Sourcebooks Landmark, 9781492607861, 336pp.
Publication Date: April 7, 2015
Whiskey & Charlie is structured around the two-way alphabet. How does the author use the two-way alphabet as a narrative device within the story?
What are Charlie's perceptions of his brother, and how do they change over the course of the novel?
Do you relate to Charlie's feelings about Whiskey? Have you had a time where you felt resentful or jealous of a sibling? How did you resolve those feelings?
In what ways does Whiskey's accident force Charlie to grow up? Is there a defining moment in Charlie's maturation?
How has Whiskey's accident affected the other members of their family?
Suppose that Charlie had been the one in a coma rather than Whiskey. How do you think Whiskey would have handled that situation? What are some regrets he may have had about their relationship?
Charlie loves Juliet yet is afraid to marry her. What stops Charlie from proposing to Juliet or from accepting her proposal? And what finally makes him change his mind?
How does the counseling Charlie receives in the hospital help him to resolve the issues in his life? How might things have worked out differently if he had received that kind of help earlier?
How does Charlie's relationship with Whiskey affect his relationships with others around him, including his mother, his father, and Juliet?
What role does Rosa play in the novel, as a relative newcomer to the family and in the dynamic between Whiskey and Charlie?
What role do you think Mike plays in the story? How does his arrival further complicate Charlie's feelings about Whiskey?
For most of the novel, it is unknown whether Whiskey will recover from his accident. What are some issues related to quality of life and euthanasia that arise in this story?
Does Whiskey & Charlie have a happy ending?