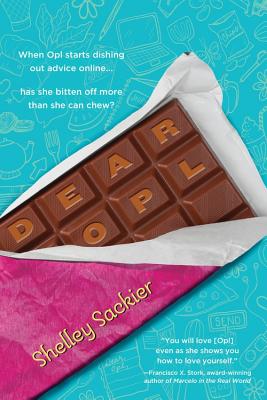 Dear Opl
Paperback

* Individual store prices may vary.
Description
Opl can dish out advice like a pro, but when it comes to helping herself, she's eating her words
There are three things Opl never expected to do during the eighth grade.
Start a vendetta against celebrity chef Alfie Adam, the "Nude Food Dude"
Take yoga classes with her grandpa
Become a famous blogger
But after a year of shrinking down her personality to compensate for the fact that her body's getting bigger, Opl thinks it's about time to start speaking up again. What she doesn't expect is that everyone actually starts to listen…
Praise For Dear Opl…
"In the two years since her father's death from cancer, Opal's life has gone awry. Grief and her family's altered dynamics have contributed to Opal's struggles with food and weight. She is increasingly at odds with her mother, who is overwhelmed and distracted. When her mother encourages Opal to start a blog as a way to document her food intake, Opal decides to use it to express her thoughts instead. Soon, Opal's sharp, humorous observations as 'Opl' garner interest as people respond to her commentary. Sackier captures Opal's emotional turmoil as she grieves for her father and resists her mother's campaign to persuade her to diet. When a savage blog entry directed at a popular chef earns Opal criticism from her best friend, remorse—along with an alarming health diagnosis from Opal's doctor—compels Opal to reconsider the chef's healthful-food philosophy. Sackier conveys a message about healthy habits without lecturing. Opal's adventures in cooking and yoga—with occasionally comical results—alter her perspective, and her changing attitudes reflect her personal and emotional transformation. As Opal endeavors to better understand who she is, she gains a greater awareness of others' life circumstances as well. When a chance encounter leads to Opal's acquaintance with Rudy, a regular visitor to the local soup kitchen, Opal devises a kindhearted plan to help him. By the story's conclusion, readers will be happy they traveled with Opal on her journey to self-acceptance" — Kirkus Reviews
"Sackier does an impressive job of incorporating heavy subjects, such as death, obesity, and bullying, into a well-paced narrative about growing up." —
Booklist
"This book has a good message. It tells you that even if life is hard, sometimes you've got to face it straight on or you will just be running all your life. Opl becomes a lot happier by the end because she is helping other people, and also because her family grows closer together again" —
San Francisco Book Review
"I really enjoyed this book. I personally love realistic fiction, and if you do too, this is the book for you. It's a coming of age tale (well at least teen age) about a middle-schooler whose bitten off more than she can chew. I think we can all relate to the character, and all of us have been in her shoes, in one way or another. This book was funny and sad, but enjoyable all around. I definitely recommend it. " —
Middle Shelf Magazine
"Sensitively written and spiked with humor." —
Beth Fish Read
"Packed full of vivid descriptions and Opal's hilariously sarcastic yet authentic voice, this novel speaks to what many preteens and teens go through on a daily basis. Readers will relate to Opal's struggle, and to the timely issues brought up in the book." —
School Library Connection
Sourcebooks Young Readers, 9781492608592, 240pp.
Publication Date: August 4, 2015
About the Author
Shelley Sackier is a freelance writer, musician, and blogs weekly at Peakperspective.com, which has just received its second WordPress.com Editors' Pick. She lives in the Blue Ridge Mountains of Virginia.
or
Not Currently Available for Direct Purchase