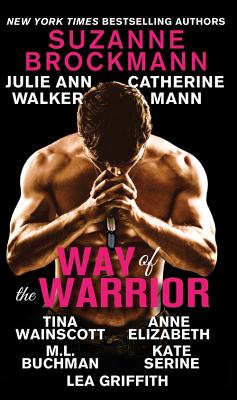 Way of the Warrior
Mass Market

* Individual store prices may vary.
Description
EIGHT PASSIONATE LOVE STORIES ABOUT AMAZING MILITARY HEROES BY BESTSELLING AUTHORS:
Suzanne Brockmann, Julie Ann Walker, Catherine Mann, Tina Wainscott, Anne Elizabeth, M.L. Buchman, Kate SeRine, Lea Griffith
To honor and empower those who've served, all author and publisher proceeds go to the Wounded Warrior Project.
The Wounded Warrior Project was founded in 2002 and provides a wide range of programs and services to veterans and service members who have survived physical or mental injury during their brave service to our nation. Get involved or register for programs and benefits for yourself and your family online at www.woundedwarriorproject.org.
"It is a proud privilege to be a soldier." —George S. Patton Jr.
"We sleep safely at night because rough men stand ready to visit violence on those who would harm us." —Winston Churchill
Praise For Way of the Warrior…
"This is a must-read for every military romance fan. " — Publishers Weekly

"A heartfelt tribute to our military personnel and the sacrifices they and their families make. This anthology is a hands-down winner..." — Library Journal

"WAY OF THE WARRIOR is an amazing compilation from eight talented action/romance authors... " — Fresh Fiction

"This collection of stories has a delicious combination of scenarios that provide a look at the extreme sacrifices made by those individuals brave enough to put their lives on the line to keep the rest of us safe, even as it shows the extreme loyalty and camaraderie that develops between them." — Night Owl Reviews, Top Pick!
Sourcebooks Casablanca, 9781492608998, 512pp.
Publication Date: May 5, 2015
About the Author
When New York Times bestseller Suzanne Brockmann first held her baby daughter, she had no idea she was cradling a future writing partner. Melanie was born with a fierce love for storytelling, so collaboration was inevitable. Suz splits her time between Florida and Massachusettes while Mel lives in Sarasota. Night Sky is Mel's debut and Suz's fifty-fifth book. Visit Suzanne at SuzanneBrockmann.com
Julie Ann Walker is the USA Today and New York Times Bestselling Author of the Black Knights Inc. romantic suspense series. She is prone to spouting movie quotes and song lyrics. She'll never say no to sharing a glass of wine or going for a long walk. She prefers impromptu travel over the scheduled kind, and she takes her coffee with milk. You can find her on her bicycle along the lake shore in Chicago or blasting away at her keyboard, trying to wrangle her capricious imagination into submission. For more information, please visit www.julieannwalker.com or follow her on Facebook www.facebook.com/jawalkerauthor and/or Twitter @JAWalkerAuthor.
USA Today bestselling author Catherine Mann specializes in military romances with over 50 books in print. Catherine's works have made the WaldenBooks extended list as well. A RITA winner, she has also won the Bookseller's Best Award. She has finaled in The National's Reader's Choice Award, the Reviewers International Organization Choice Award, the RT Reviewer's Choice Award, the Maggie Award and the RITA Award (six times). Catherine's books have been widely released internationally including in Great Britain, Germany, Spain, France, Portugal, Greece, Turkey, Iceland, Australia, and Japan. She lives with her husband, who is a combat veteran and retired Air Force Colonel, near Pensacola in the Florida Panhandle.
New York Times bestselling author Anne Elizabeth is a romance author, comic creator, and a monthly columnist for RT Book Reviews magazine. With a BS in business and MS in communications from Boston University, she is a regular presenter at conventions as well as a member of The Author's Guild and Romance Writers of America. Anne lives with her husband, a retired Navy SEAL, in the mountains above San Diego.
M. L. Buchman has over 35 novels and an ever-expanding flock of short stories in print. His military romantic suspense books have been named Barnes & Noble and NPR "Top 5 of the year," Booklist "Top 10 of the Year," and RT "Top 10 Romantic Suspense of the Year." In addition to romantic suspense, he also writes contemporaries, thrillers, and fantasy and science fiction.
In among his career as a corporate project manager he has: rebuilt and single-handed a fifty-foot sailboat, both flown and jumped out of airplanes, designed and built two houses, and bicycled solo around the world.
He is now a full-time writer, living on the Oregon Coast with his beloved wife. He is constantly amazed at what you can do with a degree in Geophysics. You may keep up with his writing at www.mlbuchman.com.
Lea Griffith began sneaking to read her mother's romance novels at a young age. She cut her teeth on the greats: McNaught, Woodiwiss, and Garwood. She still consumes every romance book she can put her hands on, but now she writes her own. When not working as a Practice Manager for an Internal Medicine Physician, you'll find her at her keyboard, writing. She loves romance and nothing is off-limits when it comes to her muse. Lea lives in rural Georgia with her husband, three teenage daughters, two dogs, a cat, and a Betta fish named Coddy George.
Kate SeRine writes award-winning romantic suspense and paranormal romance. A past recipient of an Emily Award and the National Readers Choice Award, she has also been a finalist in the Fire and Ice Contest, Finally a Bride Contest, and the Gayle Wilson Award of Excellence. She lives with her husband and two sons outside Indianapolis, Indiana. Connect with Kate at www.kateserine.com.
or
Not Currently Available for Direct Purchase