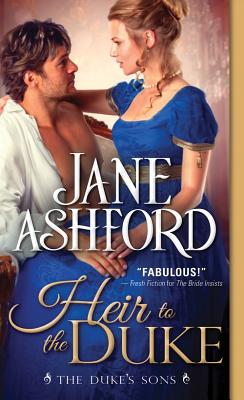 Heir to the Duke (Duke's Sons #1)
Mass Market Paperbound

* Individual store prices may vary.
Description
A dazzling Regency romance from bestselling author Jane Ashford.Life is predictable for a Duke's first son. Or so he once thought...
He was delighted that she shared this pleasure with him. And howlovely she looked, out here on the water. The wind had whipped color into hercheeks. Her sandy hair leaped and curled around her face. And her gray eyesshimmered and sparkled. Violet's beauty--for it was undoubtedly beauty--arosefrom animation, he realized. When she was subdued and distant, as she'd alwaysbeen when he saw her before their marriage, it was hidden. A secret, like theflower she was named for, obscured by broader leaves in the forest. But nowhe'd discovered a different Violet--vibrant, responsive. Watching her laugh asspray spattered her sleeve, he felt extremely fortunate. His instincts hadsomehow led him to a prize.
As eldest son of the Duke ofLangford, Nathaniel Gresham sees his arranged marriage to Lady Violet Devere asjust another obligation to fulfill--highly suitable, if unexciting. But asViolet sets out to transform herself from dowdy wallflower to dazzling youngduchess-to-be, proper Nathaniel sets out to prove he's a match for his newbride's vivacity and daring.
Oppressed by her family all her life--especiallyher domineering and horrible grandmother--Lady Violet can't wait to enjoy thefreedom of being a married woman. But then Violet learns her family's sordidsecret, and she's faced with an impossible choice--does she tell Nathaniel andrisk losing him, or does she hide it and live a lie?
Sourcebooks Casablanca, 9781492621560, 352pp.
Publication Date: January 5, 2016
or
Not Currently Available for Direct Purchase