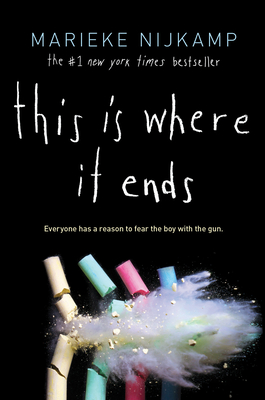 This Is Where It Ends (Hardcover)
Sourcebooks Fire, 9781492622468, 288pp.
Publication Date: January 5, 2016
Other Editions of This Title:
Paperback (5/7/2019)
MP3 CD (12/1/2016)
Compact Disc (12/1/2016)
Hardcover (9/4/2018)
Pre-Recorded Audio Player (1/5/2016)
MP3 CD (1/5/2016)
Compact Disc (1/5/2016)
Compact Disc (1/5/2016)
* Individual store prices may vary.
Description
The #1 New York Times Bestseller
Everyone has a reason to fear the boy with the gun...
10:00 a.m.: The principal of Opportunity, Alabama's high school finishes her speech, welcoming the entire student body to a new semester and encouraging them to excel and achieve.
10:02 a.m.:
The students get up to leave the auditorium for their next class.

10:03:
The auditorium doors won't open.

10:05:
Someone starts shooting.
In 54 minutes, four students must confront their greatest hopes, and darkest fears, as they come face-to-face with the boy with the gun.
A Buzzfeed Best YA Book
A Bustle.com Most-Anticipated YA Novel
A Goodreads YA Best Books Pick
A Goodreads Choice Award Finalist for Young Adult Fiction
Kids Indie Next List Pick
Marieke Nijkamp's brutal, powerful fictional account of a school shooting is important in its timeliness. --Bustle.com
A gritty, emotional, and suspenseful read and although fictionalized, it reflects on a problematic and harrowing issue across the nation. --Buzzfeed
A compelling, brutal story of an unfortunately all-too familiar situation: a school shooting. Nijkamp portrays the events thoughtfully, recounting fifty-four intense minutes of bravery, love, and loss. --BookRiot
There are many different kinds of relationships in this novel: family, friendship, romantic. How do these relationships inform what is at stake for each of the main characters? order levitra onlinegeneric viagra price canada
Each character reacts differently to the shooting. Choose two characters and describe how they responded. Do you agree with the decisions they made? How might you have acted differently? order levitra onlinegeneric viagra price canada
This is Where it Ends is interspersed with texts, social media posts, and blog excerpts. How do you think technology has affected the way we experience and respond to tragedy? order levitra onlinegeneric viagra price canada
Autumn and Sylv keep secrets from each other. Do you think this helps or hurts their relationship? Do you agree with their decisions or would you have encouraged them to speak up? order levitra onlinegeneric viagra price canada
Autumn doesn't feel as if she belongs in Opportunity. She tells Sylv, "If I stay here, I don't think I'll matter." What does she mean by this? order levitra onlinegeneric viagra price canada
Early in the novel, Tomás has the opportunity to escape the school. Instead, he chooses to try to help his classmates. Discuss Tomás's decision. What would you have done? order levitra onlinegeneric viagra price canada
Claire and Chris feel helpless as they wait for news about what is happening inside the school. In your opinion, was it more difficult for the characters inside the auditorium or those waiting to hear about their loved ones? Why? order levitra onlinegeneric viagra price canada
Tyler told his father he wanted to go back to school to "set things right." Discuss his motivations. How could he have gone about this differently? order levitra onlinegeneric viagra price canada
In the epilogue, the survivors come together to remember those they lost by sending lanterns into the sky. Mei describes this as a way to "make sure the darkness is never absolute." What does that mean to you? order levitra onlinegeneric viagra price canada
What do you think happens to the survivors after the book ends? What would come next for them? How do you think their experiences changed them? order levitra onlinegeneric viagra price canada