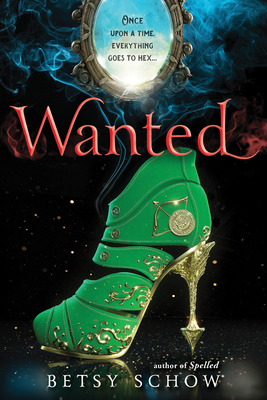 Wanted (Storymakers #2)
Paperback

* Individual store prices may vary.
Other Editions of This Title:
Digital Audiobook (7/3/2017)
Compact Disc (7/4/2017)
MP3 CD (7/4/2017)
Compact Disc (7/4/2017)
MP3 CD (7/4/2017)
Description
Robin Hood's daughter, Rexi, must stop the Wicked Witch from finding Excalibur, come spell or high water in this exciting and wickedly funny sequel to Spelled, perfect for fans of the Villains series by Serena Valentino and Jen Calonita's Fairy Tale Reform School series
Fairy-Tale Survival Rule #52: No matter how difficult the obstacles or all-powerful the evil villain, one can rest assured that the hero of the story never dies. The sidekicks though...they should be worried.
Rexi Hood is proud to be an outlaw. After all, she's the daughter of the infamous Robin Hood. But sidekick? Accomplice? Sorry, that wasn't in her story description. Yeah, she and Princess Dorthea of Emerald have been inseparable since they teamed up to fight the wickedest witch. But if Rexi doesn't figure out how to break the curse that binds them, forget being overshadowed by the spirited princess, Rexi's going to become a Forgotten, wiped from the pages of Story and reduced to a puddle of ink.
Not happening. No way in Spell.
Rexi's plan? Steal the sword Excalibur and use its magic to write her own tale. But Gwenevere has opened a new Academy of Villains in Camelot and danger lurks behind every plot twist. And you know how it goes in Story: keep your friends close and your enemies closer...
Fast-paced and delightfully unique, Wanted is perfect for readers looking for:
a fresh and clever Wizard of Oz retelling
a new take on Robin Hood and other timeless fairy tales
young adult books with adventure, humor, and magic
whimsical fantasy for tweens and teens
dynamic and relatable heroines with snark
The Storymakers Series:
Spelled (Book 1)
Wanted (Book 2)
Banished (Book 3)
Sourcebooks Fire, 9781492635994, 320pp.
Publication Date: February 7, 2017