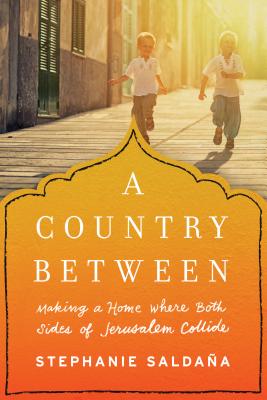 A Country Between
Making a Home Where Both Sides of Jerusalem Collide
Paperback

* Individual store prices may vary.
Other Editions of This Title:
Digital Audiobook (5/29/2017)
Description
"A Country Between reminds us that grief is as indispensable to joy as light is to shadow. Beautifully written, ardent and wise." —Geraldine Brooks, Pulitzer Prize-winning author of The Secret Chord, People of the Book, and March
Moving her family to a war zone was not a simple choice, but she's determined to find hope, love, and peace amid the conflict in the Middle East.
When young mother Stephanie Saldana finds herself in an empty house at the beginning of Nablus road—the dividing line between East and West Jerusalem—she sees more than a Middle Eastern flash point. She sees what could be home.
Before her eyes, the fragile community of Jerusalem opens, and she starts to build her family to outlast the chaos. But as her son grows, so do the military checkpoints and bomb sirens, and Stephanie must learn to bridge the gap between safety and home, always questioning her choice to start her family and raise her child in a country at war.
A Country Between is a celebration of faith, language, and family—and a mother's discovery of how love can fill the spaces between what was once shattered, leaving us whole once more.
Praise For A Country Between: Making a Home Where Both Sides of Jerusalem Collide…
"Thoughtful, candid and achingly lovely, A
Country Between
celebrates the moments of beauty and truth that appear even--or especially--in broken and hard places, bringing light and healing in unexpected ways." —
Shelf Awareness for Readers, STARRED review
"Saldaña builds an impressive sense of genuine emotion, and she vividly explores the array of life in that seething section of Jerusalem...a serene memoir in which the author takes valuable time to regard the character of the Palestinian people and their way of life. " —
Kirkus Reviews
"This fascinating book captures the reality of living in colliding worlds…Saldana's observations about the realities of marriage, motherhood, and aging…offer the sense of having had a uplifting conversation with a thoughtful soul. Rather than attempting to answer political questions about the region, Saldana shares a curious kind of hope by showing how life goes on no matter the circumstances… readers gain a deeper understanding of love and faith."  " —
Booklist, STARRED review
"This candid, tenderly rendered love story begins in a Syrian monastery, where Saldaña (Bread of Angels), a Texas-born journalist, falls for Frédéric, a French novice monk...Saldaña describes in wonderful detail how, as their family expands, they stay in a place where so little makes sense, guided solely by their hope in the future." —
Publishers Weekly
"If an angel were to write a book, this would be it. Stephanie Saldana's memoir of her years as a young bride and new mother on Jerusalem's Nablus Road is infused with grace, rich in wisdom. With her French husband, a former novice monk, she makes a home on one of the fault lines where the lives of Israelis and Palestinians, Jews, Muslims and Christians sometimes mesh, but often collide. A Country Between reminds us that grief is as indispensable to joy as light is to shadow. Beautifully written, ardent and wise." — Geraldine Brooks, Pulitzer Prize-winning author of The Secret Chord, People of the Book, and March
"A book you can't put down. This is a gift of sweetness and light in a troubled time." — Julia Alvarez, bestselling author of In the Time of Butterflies and How the Garcia Girls Lost Their Accents
"Stephanie Saldana's astonishing gifts of perception and potent description make A Country Between feel like the country we would all prefer to live in. These elegant pages, replete with mystery, surprise, secret messages tucked inside every day, and the tender love of parents for one another and for the precious children they nurture and educate in Jerusalem, a most difficult, crucially beloved city, make us homesick for something better." — Naomi Shihab Nye, author of Habibi
"A testament to the couple's full embrace of peace and a commitment to living the lives they chose together…this book about hope in uncertain times reads especially poignantly for anyone looking darkly at the future." —
Library Journal
"When we read or see TV reports about conflict in the Middle East, we would do well to remember that real people with real hopes and dreams are in many ways at the center of the story...there also are families like Stephanie Saldaña's, whether Christian, Jewish, Muslim or something else. And this book makes those families much more understandable." —
Bill's "Faith Matters" Blog
"The writing of the book is gorgeous. There is the travel aspect of the book certainly but there is also a very personal family-oriented bend to the book. " —
A Bookish Affair
"Saldana's writing is gorgeous; it is clear she is a poet. In one short letter to Joseph, she says that on Nablus Road they "stroll[ed] through love and languages." A COUNTRY BETWEEN is such a stroll, through love, language, worlds, religions, and family life. " —
Great New Books
Sourcebooks, 9781492639053, 368pp.
Publication Date: February 7, 2017
or
Not Currently Available for Direct Purchase