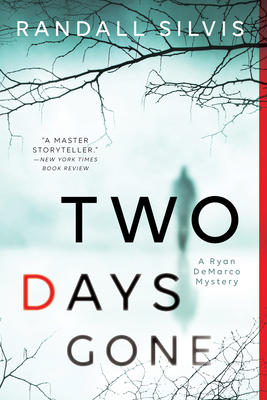 Two Days Gone (Ryan DeMarco Mystery #1)
Paperback

* Individual store prices may vary.
Other Editions of This Title:
Hardcover, Large Print (3/8/2017)
Description
HAMMETT PRIZE NOMINEE
Introducing the literary, emotionally propulsive Ryan DeMarco Mystery novels from Randall Silvis, critically acclaimed master of crime fiction.
The perfect family. The perfect house. The perfect life. All gone now.
What could cause a man, when all the stars of fortune are shining upon him, to suddenly snap and destroy everything he has built? This is the question that haunts Sergeant Ryan DeMarco after the wife and children of beloved college professor and bestselling author Thomas Huston are found slaughtered in their home. Huston himself hasn't been seen in two days and is immediately cast as the prime suspect.
DeMarco knows--or thinks he knows--that Huston couldn't have been capable of murdering his family. But if Huston is innocent, why is he on the run? And does the half-finished manuscript he left behind contain clues to the mystery of his family's killer?
Perfect for readers of Tana French and Dennis Lehane, this masterful new thriller by acclaimed author Randall Silvis is a taut, suspenseful story that will break your heart as much as it will haunt your dreams.
" a] chilly suspense novel."--The New York Times Sunday Book Review
"...a suspenseful, literary thriller that will resonate with readers long after the book is finished. A terrific choice for Dennis Lehane fans."--Library Journal, Starred Review
"An absolute gem of literary suspense... told in a smooth, assured, and often haunting voice, Two Days Gone is a terrific read."--Michael Koryta, New York Times bestselling author of Those Who Wish Me Dead
Ryan DeMarco Mystery Series:
Two Days Gone (Book 1)
Walking the Bones (Book 2)
A Long Way Down (Book 3)
No Woods So Dark as These (Book 4)
Poisoned Pen Press, 9781492639732, 400pp.
Publication Date: January 10, 2017
1. How does the setting of Two Days Gone create the overall tone for the mystery to unfold?
2. Describe the ways Silvis uses a sense of place to draw readers into the story.
3. Throughout the book, Huston seems to live two separate lives, one externally with his family and one internally within his writer self. Have you ever felt like you are living as two separate people? Can you relate to Huston in this way?
4. Huston draws inspiration from great authors, poets, and writers in his own works and relates to literary characters on a personal level. Have you ever felt connected to a certain character from a book? Which character and why?
5. Describe Huston's mental state in the hours after his family's murder. What does this say about Huston's character? At this point in the story, do you believe Huston could be capable of murder?
6. After discovering Huston's notebook, DeMarco struggles to discern the difference between writer and character, between Huston and his own story. Where do you see the distinction between writer and character? Do you think that Huston, at any point, crossed over from writer to character? Do you think his characters reflect himself? Explain.
7. It is obvious that Huston is a beloved professor who greatly influences the growth of his students. Have you ever had a professor or older figure that has had this sort of influence in your own life? Do they have any similarities to Huston? Differences?
8. Throughout the story, Silvis references many different authors and works of literature, especially Nabokov and Poe. How do these references influence the story?
9. If you were to write your own story, fiction or nonfiction, what authors would you draw inspiration from?
10. When on the run, Huston reaches out to only two people, Danni and Nathan. Why do you think he chooses these two people to trust? Compare and contrast Huston's relationships with Nathan and Danni.
11. When DeMarco finds Huston at the top of the lighthouse, he leaves him there, trusting that he will not jump. If you were in that situation, do you think you could leave your friend? Why or why not?
12. What do you think of Huston's murder/suicide? Was his revenge justified?
13. Throughout the story, we learn relatively little about Conescu, but later realize he is central to Huston's demise. What do you think of Conescu's involvement in Huston's family's murder? Do you think he regrets what he started?
14. Why do you think DeMarco decides to finally give up on Laraine? At the end of the novel, do you see any new parallels between DeMarco and Huston?
15. Do you think any of the characters in Two Days Gone deserve happy endings? Do you think any of them find peace after the story ends?