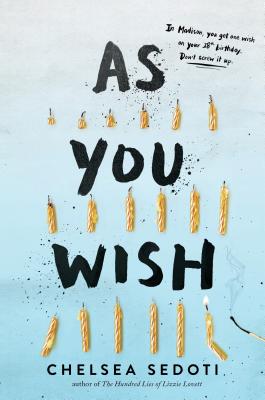 As You Wish (Hardcover)
Sourcebooks Fire, 9781492642312, 432pp.
Publication Date: January 2, 2018
Other Editions of This Title:
Paperback (12/4/2018)
* Individual store prices may vary.
Description
If you could make one wish that was guaranteed to come true--what would you wish for?
Rules for Wishing:
Never let an outsider find out about wishing. (Zip your lips and throw away the key.)
Wishes that would impact the world are off limits (i.e. no bringing back the dinosaurs).
Do no harm. (Murder = no bueno.)
No time travel. (What's done is done, pal.)
No bringing back the dead. (Come on. You've seen what happens in THE WALKING DEAD.)
NEVER BREAK THE RULES. (Seriously. We mean it. See Rule #7.)
There are always consequences.
Madison is a small town in the Mojave desert on the road between nothing and nowhere. It's an unremarkable speck on the map, which is perfect for protecting the town's secret. Because in Madison, everyone can make one wish on their eighteenth birthday-and that wish always comes true.
Most of Eldon's classmates have had their wishes picked out for months, even years. Not Eldon. He's seen how wishing has hurt the people around him. His parents' marriage is strained, his sister is a virtual ghost in their house, his ex-girlfriend is dating his ex-friend...where does he even begin?
One thing is for sure: Eldon has only twenty-five days to figure it out--and the rest of his life to live with the consequences.
1. Throughout As You Wish, Eldon seeks out the perfect wish—a wish that he'll be happy with for the rest of his life. Do you think "the perfect wish" actually exists?
2. Have you ever gotten exactly what you wished for? If so, how did it turn out?
3. What are things you would have wished for five years ago? What might you regret about those wishes now? What would you wish for if you had to make a wish today?
4. Madison, Nevada, the town where As You Wish takes place, is near Area 51. In a world where wishing is real, does alien life seem farfetched? Which is easier to believe in, wishes or aliens?
5. The golden rule of wishing is to never let outsiders know it exists. What lengths do you think Madison residents would go to in order to keep their secret? How far would you go?
6. How much did Madison's remote location influence the culture surrounding wishing? How might it have differed in a more populated area of the country?
7. Though wishing seems to give people more opportunities, Eldon doesn't see it that way. In what ways might wishing limit the choices people have?
8. Occasionally, a wish impacts someone other than the wisher. Do you feel that it would ever be okay to make a wish that influences the course of another person's life?
9. Many people use their wishes to alter themselves, in ways both big and small. What could be some consequences of this? Would you ever wish to change something drastic about yourself?
10. Do you agree with the final choice Eldon makes in regards to his wish? How would your decision have differed from his?