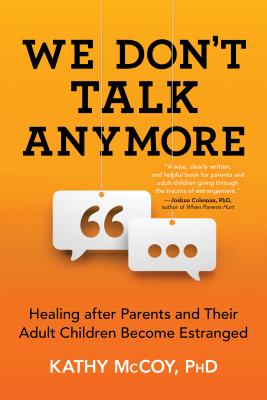 We Don't Talk Anymore
Healing after Parents and Their Adult Children Become Estranged
Paperback

* Individual store prices may vary.
Description
Understand the painful silence of estrangement and finally heal the rift
Estrangement from an adult son or daughter is one of a parent's worst nightmares. Becoming estranged from a parent can be equally painful for an adult child, who may miss the relationship they once shared. For both it can mean angry silences and anguished days and nights wondering what went wrong.
Written by Kathy McCoy, one of the nation's more revered experts on family relationships, We Don't Talk Anymore is a insightful and relevant new exploration of estrangement for both parents and adult children. Each chapter also provides compassionate, practical tips focused on what both parents and adult children can do, including:
Finding courage to reach out to your loved one
Understanding the conflict and discovering a new and fulfilling connection
Letting go and rebuilding your life
Families deserve clarity and understanding. We Don't Talk Anymore will show you those first steps toward dealing with a painful topic and finally healing.
Praise For We Don't Talk Anymore: Healing after Parents and Their Adult Children Become Estranged…
"This well-focused book addresses so well the cataclysmic schism that often fractures the unity of an intact family. Dr. McCoy gives a glimpse into very real family dynamics of broken relationships with poignant clinical scenarios. Her expertise as a family counselor and therapist provides the reader with soothing treatment and practical approaches to understand and move forward to heal and mend these now fragile relationships. The author provides up to-date-research to document current counseling techniques, including research on epigenetics. This book is a must for any parent or adult child who have lost their relationship with each other." — Charles J. Wibbelsman, M.D., Clinical Professor of Pediatrics, University of California, San Francisco
"We Don't Talk Anymore is a wise, clearly written, and helpful book for parents and adult children who are going through the trauma of estrangement. It is a great contribution to the important, but still relatively new, field of advice for families trying to reckon with this painful topic. I highly recommend it." — Joshua Coleman, PhD, author of When Parents Hurt
"This practical guidebook goes through the most common conflicts between older parents and their adult children and offers the perspective of each side...a great starting place for readers hoping to let go of long-term resentments and improve communication with estranged family members. " —
Publishers Weekly-STARRED
"A tender and practical exploration of estrangement for both parents and adult children." —
The Midwest Book Review
Sourcebooks, 9781492651130, 368pp.
Publication Date: October 3, 2017