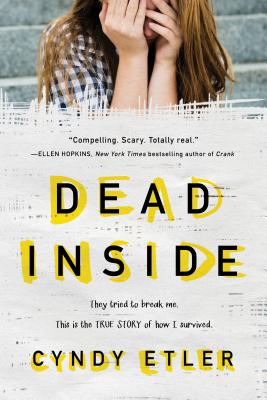 Dead Inside (Paperback)
They Tried to Break Me. This Is the True Story of How I Survived.
Sourcebooks Fire, 9781492652793, 320pp.
Publication Date: March 6, 2018
Other Editions of This Title:
Hardcover (4/4/2017)
* Individual store prices may vary.
Description
For readers of Girl Interrupted and Tweak, Cyndy Etler's gripping memoir gives readers a glimpse into the harrowing reality of her sixteen months in the notorious "tough love" program the ACLU called "a concentration camp for throwaway kids."
I never was a badass. Or a slut, a junkie, a stoner, like they told me I was. I was just a kid looking for something good, something that felt like love. I was a wannabe in a Levi's jean jacket. Anybody could see that. Except my mother. And the professionals at Straight.
From the outside, Straight Inc. was a drug rehab. But on the inside it was...well, it was something else.
All Cyndy wanted was to be loved and accepted. By age fourteen, she had escaped from her abusive home, only to be reported as a runaway and sent to a "drug rehabilitation" facility that changed her world.
To the public, Straight Inc. was a place of recovery. But behind closed doors, the program used bizarre and intimidating methods to "treat" its patients. In her raw and fearless memoir, Cyndy Etler recounts her sixteen months in the living nightmare that Straight Inc. considered "healing."