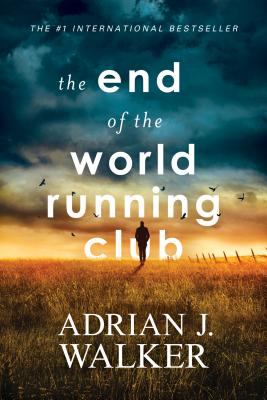 The End of the World Running Club (Paperback)
Sourcebooks Landmark, 9781492656029, 464pp.
Publication Date: September 5, 2017
Other Editions of This Title:
Pre-Recorded Audio Player (11/5/2017)
MP3 CD (9/5/2017)
Compact Disc (9/5/2017)
Compact Disc (9/5/2017)
Library Binding, Large Print (12/6/2017)
* Individual store prices may vary.
Description
The #1 International Bestseller
A Science Fiction & Fantasy Book to Keep on Your Radar by io9 and Gizmodo
A powerful post-apocalyptic thriller, perfect for fans of The Martian. When the sky begins to fall, one man finds himself separated from his family, his best hope is to run--or risk losing what he loves forever.
When the world ends and you find yourself stranded on the wrong side of the country, every second counts. No one knows this more than Edgar Hill: over five hundred miles of devastated wasteland stretch between him and his family. To get back to them, he must push himself to the very limit--or risk losing them forever.
His best option is to run. But what if his best isn't good enough? End of the World Running Club is an otherworldly yet extremely human story of hope, love, and the endurance of both body and spirit.
Praise for The End of the World Running Club:
"Harrowing and heartrending, this is a novel that is almost impossible to put down." --Library Journal, STARRED REVIEW
"Walker's ability to imagine a post-apocalyptic world in crisp detail is on full display in the early pages of The End of World Running Club." -- Maximum Shelf
..".a beautifully written postapocalyptic tale of a flawed man's struggle for survival and redemption." -- Booklist
"A fresh and frighteningly real take on what "the end" might be...quite an exciting and nerve-wracking 'run', with characters
1. The End of the World Running Club centers around the apocalypse but with very human themes. How did you relate to the characters and situations in the book?
2. Edgar Hill is a very flawed human being, but he achieves something remarkable. Would you call him a hero and why/why not?
3. In an age full of streaming news, changing politics, and constant stimulation how do you envision the world reacting to the announcement of impending doom, and how would you prepare yourself?
4. Desperation and survival leads decent people into dark actions, but are there any survivors Edgar meets that you cannot forgive? What is the difference between a girl like Gloria and a woman like Jenny Rae?
5. The cast is mostly comprised of male characters, but there are some very important females that feature in both Edgar's personal life, and his journey in the book. Do you feel that they were portrayed fairly, clearly, or thoroughly?
6. What recurring symbols or themes did you see throughout the book, and how do you feel they support Edgar's journey or development?
7. Edgar meets many people in his run across the country, from Harvey to Lord Bartonmouth. What did they all contribute to Edgar's transformation, and who do you think was the most important?
8. If you could only choose five things to save at the end of the world (not including food and water) what would they be and why?
9. The ending is ambiguous on who is buried under the three crosses – how do you think the story concludes for Edgar, and what leads you to that conclusion?