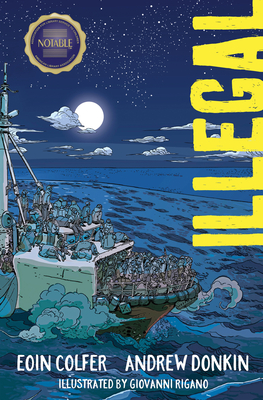 Illegal
Hardcover

* Individual store prices may vary.
Other Editions of This Title:
Digital Audiobook (10/15/2018)
Paperback (8/7/2018)
Prebound (8/7/2018)
Compact Disc (10/16/2018)
Description
A powerfully moving, award-winning graphic novel that explores the current plight of undocumented immigrants from New York Times bestselling author Eoin Colfer and the team behind the Artemis Fowl graphic novels. How can a human being be illegal for simply existing?
Ebo is alone. His brother, Kwame, has disappeared, and Ebo knows it can only be to attempt the hazardous journey to Europe, and a better life—the same journey their sister set out on months ago. But Ebo refuses to be left behind in Ghana. He sets out after Kwame and joins him on the quest to reach Europe. Ebo's epic journey takes him across the Sahara Desert to the dangerous streets of Tripoli, and finally out to the merciless sea. But with every step he holds on to his hope for a new life, and a reunion with his family.
An achingly poignant tale for learning about immigration and current global issues. This book is fiction, but it is based on a very real and terrible journey. There are young people who have lived this, and it is a story those young people want us to know about.
2019 Excellence in Graphic Literature Award Winner
A New York Public Library Best Book of 2018
A Chicago Public Library Best Book of 2018
An Amazon Best Book of 2018
A Kirkus Reviews Best Middle Grade Graphic Novel of 2018
An American Library Association Notable Book for 2019
2019 YALSA Top Ten Great Graphic Novels for Teens
2019 CBC Notable Social Studies Book
A Junior Library Guild Selection
Praise For Illegal…
"Illegal powerfully visualizes the current struggles being faced by refugees and emigrants...through stunning, intimate visuals" — Entertainment Weekly

"Many people in first world countries are distressed by the hardships they see in news reports of immigrants fleeing their homelands to escape danger and to find a fulfilling life. However, the impact of these conditions is made much more powerful and personal when readers are taken on such a journey through story... Page-turning action conveys the trickery, violence, desperation, greed, evil, and goodness of humanity. The full-color illustrations are detailed, aptly convey emotions, and occasionally open into spectacular double-page spreads. This title is both riveting and timely. Highly recommended. " — School Library Connection, Highly Recommended

"Moving and informative, Illegal puts an unforgettable human face to the issue of immigration; it is recommended for all readers of middle school level or higher." — ForeWord, STARRED review

"Achingly poignant graphic novel" — Publishers Weekly, STARRED review

"A thrilling and moving addition to any collection, and ideal supplemental reading in classes where students are studying immigration." — School Library Journal

"Action-filled and engaging but considerate of both topic and audience, Ebo's story effectively paints a picture of a child refugee's struggle in a world crisscrossed by hostile borders." — Kirkus Reviews

"Moving and heartbreaking... Ebo's story is powerful and necessary, and will encourage readers to help refugees in whatever ways they can." — Bookish

"The horrors Ebo witnesses, the impossibilities he survives, are haunting testimony to the human spirit. Artemis Fowl series creator Colfer (who taught elementary school in Italy, Saudi Arabia, and Tunisia) leads the team... in transforming staggering statistics (UNHCR's 2017 data cites 65.6 million have been forcibly displaced) into a resonating story about a single boy and what remains of his family. Italian artist Rigano's gorgeously saturated panels—rich in details, affecting in its captured expressions, landscapes made spectacular as if a reminder of everyday beauty despite tragedy—proves to be an enhancing visual gift to the already stirring story. A creators' note and quotes from real refugees close out this illuminating, important volume. " — Booklist, STARRED Review

"Raw, realistic, and emotional, this graphic novel puts a harrowing spin on immigration and the risks people take to seek opportunities in other countries.... This graphic novel...makes truths about humanity abundantly clear with the frightening situations and tragic outcomes conveyed through the narrative, emotive illustrations, and the true story in the last five pages. Middle and high schools can use this book in curriculum and recommend it to comic enthusiasts." — VOYA Magazine

"The narrative continues, moving back and forth through time, depicting every new, painful trial--murder, poverty, dehydration, repeated dehumanization--with sensitivity and nuance. Rigano's illustrations show the beauty of the unforgiving landscapes and the individuals desperately seeking a better life; Colfer and Donkin's text is deep and evocative. Illegal is not an easy read but the creators have made the story both approachable to and captivating for a young audience. With the timely subject material and backmatter dedicated to both the refugee experience and the art of creating a graphic novel, Illegal is sure to be a bookseller, librarian and teacher favorite." — Shelf Awareness, STARRED Review

"ILLEGAL doesn't...try to get across a strong political point of view. The authors instead take a closer view at one...experience. The result is a powerful story that will stay in minds long after it is finished... ILLEGAL is not an easy book to read. The experiences Ebo has are horrifying. The graphic novel begins with an epigraph by a Holocaust survivor that concludes "How can a human being be illegal?" The answer is on every page: They cannot." — KidsReads

"This fictionalized tale of the young refugee Ebo – written by Colfer and Donkin and stunningly illustrated by Rigano – conveys an all too true and all too common journey taken by those in search of a better life, and delicately balances its portrayal of despair and loss with hope and love... Colfer, Donkin, and Rigano were able to powerfully depict loss and tragedy, as well as hope and love, with subtlety and a touch of tragic beauty. In this, they rather wildly succeeded." — Multiversity Comics

"Illegal offers an excellent, compelling narrative about an issue that desperately needs our understanding. This book seizes your attention and does the hard work of reminding you of the humanity behind the statistics and political rhetoric. Intensely recommended." — Manhattan Book Review

"With quick, simple language and vivid, readable graphics, this brings attention to the drastic outcomes of human smuggling and the plight of migrants leaving via North Africa for a better life. Like Deborah Ellis's The Breadwinner, this is an adventure story that challenges readers with grim realism." — The Toronto Star
Sourcebooks Young Readers, 9781492662143, 144pp.
Publication Date: August 7, 2018
About the Author
Eoin Colfer worked as a primary school teacher before becoming a full-time writer. He spent four years between 1992 and 1996 working in Saudi Arabia, Tunisia, and Italy. His first book, Benny and Omar, was based on his experiences in Tunisia. In 2001, the first book in the bestselling Artemis Fowl series was published. Over the years, his works have been named a Book Sense Book of the Year nominee, an L.A. Times Book Prize finalist, and a Virginia Readers' Choice Award nominee. Eoin lives in Ireland with his family. Learn more at eoincolfer.com.
Andrew Donkin is the author of more than sixty books and graphic novels for children and adults. His books have been translated into thirty languages around the world and have sold more than eight million copies in the last decade. He lives in London. Learn more at andrewdonkin.co.uk.
Giovanni Rigano is an Italian artist and illustrator born in Cantù, Italy. He is best known for his role in the creation of the Artemis Fowl graphic novels, the first of which came out in 2007. Giovanni has also created graphic novels for Disney, including The Incredibles and Pirates of the Caribbean. Giovanni currently lives in Como, Italy.