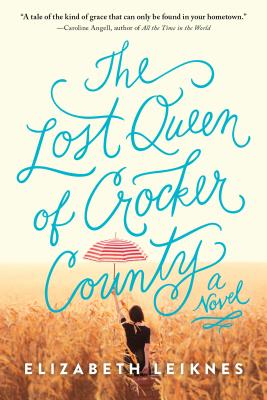 The Lost Queen of Crocker County
Paperback

* Individual store prices may vary.
Other Editions of This Title:
Library Binding, Large Print (8/16/2018)
Prebound (7/10/2018)
Description
For fans of books like THE READERS OF BROKEN WHEEL RECOMMEND, a feel-good story of going home again to get things right.
Crocker County crowns a new Corn Queen every year, but Jane Willow's the one you would remember. She can't forget Iowa, either. Even though she fled to LA to become a film critic years ago, home was always there behind her.
But when a family tragedy happens, she's forced to drive back to Crocker County. The rolling farmlands can't much hide the things she left behind: the best friend she abandoned who now runs a meatloaf hotline, the childhood front porch that sits hauntingly empty, and that fiasco of a Corn Fest that spun her life in a different direction.
Before Jane can escape her past a second time, disaster strikes, and she will have to find a way to right her mistakes and save herself from her regrets. An unflinchingly love letter to the Midwest that unfolds through a celebration of movies, this ferociously endearing novel brings home the saving grace of second chances.
Sourcebooks Landmark, 9781492663799, 336pp.
Publication Date: July 10, 2018
1. How accurately do you feel the two settings in this novel (Los Angeles and the rural Midwest) were portrayed? Have you been to either location? Which place do you most identify with: the West Coast or the Midwest?
2. Would you live in Jane's hometown? What did you like about it? What did you dislike?
3. Jane's shameful secret from her past prevents her from returning home and therefore keeps her from her family. How realistic is the concept that shame could shape someone's life to that extent? Is guilt something that is an especially Midwestern trait or more of a universal one?
4. Jane is both physically and emotionally marked by her home. To what degree does where you grew up make you who you are? How have you been shaped by your own home?
5. How many movies referenced in this novel did you recognize? Did it make you want to see any of them for the first time or revisit some of the classic favorites? What are your favorite movies and why? Jane often associates particular films with people she knows. Do you ever think of friends or family members by such an association?
6. Jane is the most memorable Corn Queen in Crocker County. In your hometown, were there any legendary characters? What role did you play?
7. When Jane sees her mother's corn casseroles stacked up like "little corpses" in the deep freezer, waiting for when her only daughter might make a visit, it is a defining moment for her. What defining moments have brought you to a crossroads in your life?
8. Jane has many flaws as a character. What do you think were her greatest sins? Her most redeeming acts? Do you have empathy for the way she handles her struggles, or were you disturbed by the choices she made to try to reconcile them?
9. The notion of second chances is paramount in this novel. Do you believe in second chances, or are they the stuff of movies and Hollywood endings?
10. At the end of the book, who do you envision at the door? What does the future hold for Jane, Rob, and Bliss? What does the future hold for Jane, Rob, and Bliss? What future do you think Jane deserves?