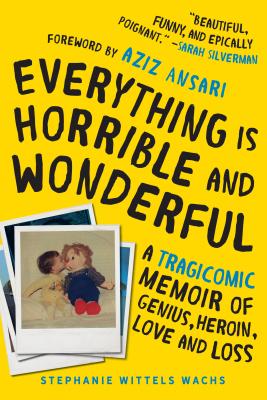 Everything Is Horrible and Wonderful
A Tragicomic Memoir of Genius, Heroin, Love, and Loss
Hardcover

* Individual store prices may vary.
Other Editions of This Title:
Digital Audiobook (2/26/2018)
Paperback (1/1/2019)
Description
In the style of The Recovering, and Educated: A Memoir, Stephanie Wittels Wachs delves into the dark world of loss, grief, and addiction in a heartbreaking but hopeful memoir
With a captivating foreward by Aziz Ansari
One phone call was all it took to change Stephanie Wittels Wachs's life forever... Her younger brother, Harris, a comedy star known for his work on Parks and Recreation and for introducing the world to the art of the humblebrag, died of a heroin overdose. How do you make sense of such a tragic end to a life full of so much hilarious brilliance?
In beautiful, unsentimental, and surprisingly funny prose, Stephanie Wittels Wachs alternates between her brother's struggle with addiction, which she learned about three days before her wedding, and the first year after his death, in all its emotional devastation. This compelling portrait of a comedic genius and a profound exploration of the love between siblings is A Year of Magical Thinking for a new generation of readers.
Everything is Horrible and Wonderful will make you laugh, cry, and wonder if that possum on the fence is really your brother's spirit animal.
A touching memoir that delves into addiction, grief recovery, and healing after loss, this poignant story ultimately showcases the enduring love we have for those we lose too soon.
Praise For Everything Is Horrible and Wonderful: A Tragicomic Memoir of Genius, Heroin, Love, and Loss…
"Comedy whiz Harris Wittels, a producer on Parks and Rec, had it all - until he OD'd on heroin at 30 in 2015. His sister, a drama teacher, poignantly describes his sobriety and relapses and her family's painful year after his death. But her beloved brother's wry jokes add leavening." —
People
"Beautiful, funny, and epically poignant." — Sarah Silverman
"Harrowing, heartbreaking, and cathartic memoir...Wachs writes with immense love, humor, and humanity...Everything about this book is horrible, wonderful, timely, and not to be missed." —
Booklist
"In unflinching detail and with remarkable openness, Wachs describes the ugly and complicated nature of mourning someone who was not only a brother and best friend, but also an addict, a public figure, and a comedic genius whose life was cut off at the very cusp of success...a powerful debut that will resonate especially with readers who have loved and lost someone to addiction." —
Kirkus Reviews
"Unsentimental and at times even funny, Everything is Horrible and Wonderful is Wachs' journey to make sense of the senseless, to move from grief to hope, and to let humor light the way." —
Bustle
"Human and heartbreaking, this sister's story of living with and losing a brother to addiction is a doozy. A great read and an intimate and illuminating account of an addict's impact on a family." — Bill Clegg, author of Portrait of an Addict as a Young Man and Did You Ever Have a Family
"Every minute more of us know the unique pain of helplessly watching someone we care about descend into the pit of addiction. Stephanie Wittels Wachs has been there, and she emerges with her wit, wisdom, and spirit intact. This remarkable and movingly told story will break and mend hearts." — David Sheff, author of Beautiful Boy and Clean
"Brutally honest and honestly beautiful, Everything Is Horrible and Wonderful is so much more than a story of how addiction can tear a family apart; it's a magnificent tribute to a brother and to the perfectly imperfect family that we all have. The clarity with which Stephanie Wittels Wachs describes addiction, death and its aftermath comes through on every page…she lays bare the ugliest truths without demonizing the destructive behavior of an addict. Threaded through with the fiercest unconditional love, this is an absolutely gorgeous book." — Matt Logelin, author of Two Kisses for Maddy
"Stephanie Wittels Wachs is honest, funny, moving, and so likable. She shows us the messy truth about losing someone you love - that there is no map for its tremendous pain and unexpected moments of joy." — Kerry Cohen, author of Loose Girl and Lush
"As described in this touching memoir, grief is a familial phantom limb constantly tapping the shoulders of the survivors…a story ultimately about renewal and hope." —
Houston Chronicle
Sourcebooks, 9781492664109, 288pp.
Publication Date: February 26, 2018
About the Author
Stephanie Wittels Wachs is a writer whose work has been featured on Vox, Longform, Huffington Post, Fatherly, Mamamia, Babble, and Medium. Other significant roles include mother, theatre artist, educator, and voice actor. She graduated from New York University's Tisch School of the Arts and went on to receive her Master's from University of Houston School of Theatre and Dance. She is co-founder of Rec Room Arts, a non-profit arts organization committed to developing innovative work across disciplines. Find her comedic musings on parenting (and life) on her weekly podcast, "Hands Off Parents." She lives in Houston, Texas with her family.
1. Harris Wittels was a successful comedy writer and comedian and had everything going for him. Stephanie Wittels Wachs describes her brother as funny, charismatic, and smart, not to mention loved by everyone in the family.  Harris was also a drug addict and at times, unreliable, arrogant, and selfish. Did this dichotomy surprise you? Is it hard for you to understand how one person could be so different at times?
2. Given the current opioid crisis in America, Harris's story is not atypical. Did it surprise you that even though he was making plenty of money and lived comfortably, he started using heroin? Did hearing about Harris's story put a human face on the opioid epidemic? Did it make you realize that it can affect anyone, even individuals who seem to have everything going for them?
3. Do you believe drug addiction is a disease, as described in the book, or a choice people make? Do you think rehab would have ever worked for Harris or do you believe the addiction was too strong?
4. Stephanie describes how she first heard about her brother's death and says she was having a good day. Have you ever gotten bad news out of the blue that takes a seemingly good—or even normal—day, and changes everything? How did you deal with sudden devastating news?
5. Throughout the book, Harris's family members have different reactions and use different coping mechanisms to deal with his death. Stephanie is raw and emotional and used writing as a form of healing. Harris's mom became an activist, and his dad was often quiet with his thoughts and retreated.  Who do you relate to most when it comes to dealing with grief? Did reading about everyone's experiences make it easier to understand how people deal with grief differently?
6. Everything is Horrible and Wonderful is such an oxymoron, but Stephanie explains that while her life was shattered by her brother's death she also felt very blessed in so many ways (marriage, first home, first baby). Have you ever experienced deep sorrow yet happiness at the same time? Explain how that made you feel. What were the blessings that helped you deal with your grief?
7. Humor plays an important role in the book and in Stephanie's life, growing up as well as in adulthood. Even in the midst of arguments she said her family always took a break for laughter. What role does humor play in your life and family?  Does humor help you through tough times in life?  Did the humor in this book make the story easier to read and digest?
Coverage from NPR
or
Not Currently Available for Direct Purchase