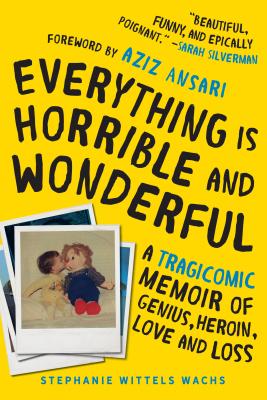 Everything Is Horrible and Wonderful
A Tragicomic Memoir of Genius, Heroin, Love, and Loss
Hardcover

* Individual store prices may vary.
Other Editions of This Title:
Digital Audiobook (2/26/2018)
Paperback (1/1/2019)
Description
In the style of The Recovering, and Educated: A Memoir, Stephanie Wittels Wachs delves into the dark world of loss, grief, and addiction in a heartbreaking but hopeful memoir
With a captivating foreward by Aziz Ansari
One phone call was all it took to change Stephanie Wittels Wachs's life forever... Her younger brother, Harris, a comedy star known for his work on Parks and Recreation and for introducing the world to the art of the humblebrag, died of a heroin overdose. How do you make sense of such a tragic end to a life full of so much hilarious brilliance?
In beautiful, unsentimental, and surprisingly funny prose, Stephanie Wittels Wachs alternates between her brother's struggle with addiction, which she learned about three days before her wedding, and the first year after his death, in all its emotional devastation. This compelling portrait of a comedic genius and a profound exploration of the love between siblings is A Year of Magical Thinking for a new generation of readers.
Everything is Horrible and Wonderful will make you laugh, cry, and wonder if that possum on the fence is really your brother's spirit animal.
A touching memoir that delves into addiction, grief recovery, and healing after loss, this poignant story ultimately showcases the enduring love we have for those we lose too soon.
Sourcebooks, 9781492664109, 288pp.
Publication Date: February 26, 2018
1. Harris Wittels was a successful comedy writer and comedian and had everything going for him. Stephanie Wittels Wachs describes her brother as funny, charismatic, and smart, not to mention loved by everyone in the family.  Harris was also a drug addict and at times, unreliable, arrogant, and selfish. Did this dichotomy surprise you? Is it hard for you to understand how one person could be so different at times?
2. Given the current opioid crisis in America, Harris's story is not atypical. Did it surprise you that even though he was making plenty of money and lived comfortably, he started using heroin? Did hearing about Harris's story put a human face on the opioid epidemic? Did it make you realize that it can affect anyone, even individuals who seem to have everything going for them?
3. Do you believe drug addiction is a disease, as described in the book, or a choice people make? Do you think rehab would have ever worked for Harris or do you believe the addiction was too strong?
4. Stephanie describes how she first heard about her brother's death and says she was having a good day. Have you ever gotten bad news out of the blue that takes a seemingly good—or even normal—day, and changes everything? How did you deal with sudden devastating news?
5. Throughout the book, Harris's family members have different reactions and use different coping mechanisms to deal with his death. Stephanie is raw and emotional and used writing as a form of healing. Harris's mom became an activist, and his dad was often quiet with his thoughts and retreated.  Who do you relate to most when it comes to dealing with grief? Did reading about everyone's experiences make it easier to understand how people deal with grief differently?
6. Everything is Horrible and Wonderful is such an oxymoron, but Stephanie explains that while her life was shattered by her brother's death she also felt very blessed in so many ways (marriage, first home, first baby). Have you ever experienced deep sorrow yet happiness at the same time? Explain how that made you feel. What were the blessings that helped you deal with your grief?
7. Humor plays an important role in the book and in Stephanie's life, growing up as well as in adulthood. Even in the midst of arguments she said her family always took a break for laughter. What role does humor play in your life and family?  Does humor help you through tough times in life?  Did the humor in this book make the story easier to read and digest?
Coverage from NPR