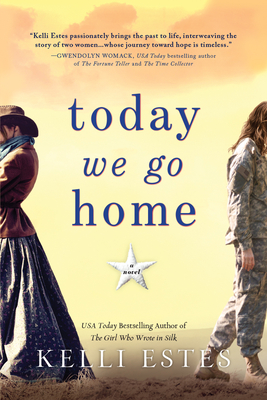 Today We Go Home
Paperback

* Individual store prices may vary.
Other Editions of This Title:
Digital Audiobook (12/2/2019)
Compact Disc (12/3/2019)
Library Binding, Large Print (1/22/2020)
Description
Seattle, Washington
Larkin Bennett has always known her place, whether it's surrounded by her loving family in the lush greenery of the Pacific Northwest or conducting a dusty patrol in Afghanistan. But all of that changed the day tragedy struck her unit and took away everything she held dear. Soon after, Larkin discovers an unexpected treasure--the diary of Emily Wilson, a young woman who disguised herself as a man to fight for the Union in the Civil War. As Larkin struggles to heal, she finds herself drawn deeply into Emily's life and the secrets she kept.
Indiana, 1861
The only thing more dangerous to Emily Wilson than a rebel soldier is the risk of her own comrades in the Union Army discovering her secret. But in the minds of her fellow soldiers, if it dresses like a man, swears like a man, and shoots like a man, it must be a man. As the war marches on and takes its terrible toll, Emily begins to question everything she thought she was fighting for.
Sourcebooks Landmark, 9781492664185, 416pp.
Publication Date: September 3, 2019
1. A major theme of the story explores the female soldier's experience. Did any of these women's experiences surprise you? If you have any military experience, what are some major challenges, prejudices, abuses, etc. that you experienced as a female military member of witnessed by other women in the military?
2. Opening all military jobs to women in recent years has started the debate on whether women should be included in any future drafts/conscriptions. What do you think?
3. The epigraph at the beginning of the book reads "Home isn't where our house is, but wherever we are understood." Emily's home was in Indiana, yet it stopped being a place where people truly knew her. Larkin grew up in Seattle but chose to go home to Woodinville because that's where she felt best loved. What does home mean to you? Where is your "home" and why do you call it home?
4. There are people today who still don't believe the Civil War was about slavery. What do you think, and why?
5. Was it a surprise to you to learn that black men were not allowed to join the Union army until 1863? That they were segregated from white soldiers and led exclusively by white officers? That they were not paid the same wages as white soldiers until June 1864? That, if caught by Confederate forces, they were usually brutally killed and never taken prisoner? Do you think the war might have ended sooner if any of these facts were different?
6. Through most of the story, Emily's family is made up of her brother and Willie. For Larkin, it is her grandmother and cousins. Both women have other family members, but they feel emotionally disconnected from them. Who do you consider your true family, no matter if they are actual family? What is it about these people that you love so much?
7. Emily's diary directly influenced Sarah's decision to join the military. Imagine one of your ancestors left a diary detailing his or her experiences during an interesting time in history. What would you do with that information? Share with the group what you already know about your ancestor and how he/she lived. How might learning more about this ancestor's experiences through a diary affect you?