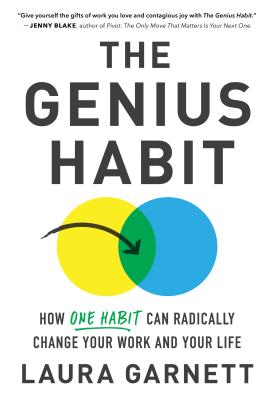 The Genius Habit
How One Habit Can Radically Change Your Work and Your Life
Hardcover

* Individual store prices may vary.
Other Editions of This Title:
Digital Audiobook (3/21/2019)
Description
Make your job the right job
Maybe you're a young professional just starting to think seriously about what you want out of your career. Maybe you've been job hopping for a few years and haven't found the perfect fit. Or maybe you want to launch your career to a new level and bring fresh energy to your work. In The Genius Habit, performance strategist Laura Garnett shows you how the path to finding long-lasting professional happiness starts with building the habit that makes extraordinary accomplishment all but guaranteed, as well as:
The difference between passion and purpose and why one matters more than the other
How to stop equating achievements with happiness
Why having a mentor is not a necessity for career success
The benefits of continually fine-tuning your career so you are challenged and fulfilled every day
Combining the most recent and exciting research on productivity and performance with Laura's experience guiding dozens of high-level clients to the heights of success, The Genius Habit is a must-read for anyone who believes that work can and should be one of the most rewarding aspects of life.
Praise For The Genius Habit: How One Habit Can Radically Change Your Work and Your Life…
"Laura Garnett's genius is that she not only understands that careers are non-linear, but she provides the GPS to discovering your purpose and your genius, which will unlock your gifts and make work an inspiring journey." — David S. Kidder, co-founder and CEO of Bionic and New York Times bestselling author of The Intellectual Devotional and The Startup Playbook
"Work doesn't have to feel like, well, work. With Laura's advice, you can find your Zone of Genius, accomplish more, and stop counting the minutes until quitting time." — Laura Vanderkam, author of Off the Clock: Feel Less Busy While Getting More Done
"Laura Garnett has written a powerful guide to finding and sustaining success and joy in your work. She has helped me and many other people get in touch with our essence and our unique gifts, and coached us on how to live and work in that zone for an ever-growing proportion of our lives. The results are nothing short of astounding on all fronts. Life can hold so much more satisfaction and delight than we can imagine, and this book shows us how to unlock that." — Raj Sisodia, co-founder and Chairman Emeritus of Conscious Capitalism International
"Loving your job and career shouldn't feel like a struggle. Instead, it should be about finding and harnessing your true greatness. In The Genius Habit, Laura Garnett shows you exactly how to do this while inspiring and helping others along the way." — Dorie Clark, author of Entrepreneurial You and Stand Out
"Among the most hopeful—and useful—ideas detailed in this book is that genius is a habit one can cultivate, and a process one can commit to. Whether you are a young professional just starting your climb up the corporate ladder, an evolved business person, or a mid-career expert who wants to be an entrepreneur, Laura Garnett's book is the voice of a patient, highly intelligent mentor who can significantly expand your own capabilities." — Vineet Nayar, Founder and Chairman of the Sampark Foundation and bestselling author of Employees First, Customers Second
"Give yourself the gift of genius—not through inborn luck, but through Laura Garnett's powerful, practical system to build a lifelong Genius Habit. Bored at work? Instead of berating yourself, consider that your plateaus are signals pointing toward greater purpose. This book will help you dismantle barriers to find what really lights you up as you click into the contagious joy of doing the work you—and only you—were born to do." — Jenny Blake, author of Pivot: The Only Move That Matters Is Your Next One
"There is a genius hiding in all of us and if you haven't found yours, you are probably dreading every Monday morning drive to work. Most of us go a lifetime searching for joy at work. Finding your genius is the key. It turns out there is a genius habit you can develop and Laura Garnett shows us how. In following her timeless advice we can get to the joy we always dreamed was possible and become the person we were destined to be." — Rich Sheridan, author of Joy, Inc. and Chief Joy Officer
"The
Genius Habit
is a solid self-help book with a clear, actionable process that will appeal to readers of Jen Sincero and Gretchen Rubin." —
Booklist
Sourcebooks, 9781492667308, 384pp.
Publication Date: February 5, 2019
About the Author
LAURA GARNETT is a performance strategist, speaker, and the creator of the Zone of Genius methodology. She has helped hundreds of executives and entrepreneurs define what they do better than anyone else and why. She is a regular contributor to Forbes, Success, Time, and others. She lives in New York.