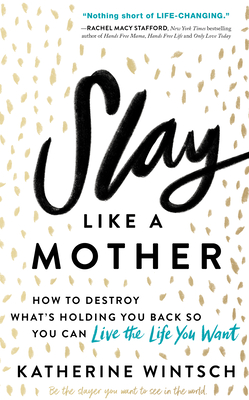 Slay Like a Mother (Hardcover)
How to Destroy What's Holding You Back So You Can Live the Life You Want
Sourcebooks, 9781492669401, 320pp.
Publication Date: March 19, 2019
* Individual store prices may vary.
Description
"Wintsch's style is brisk and forthright with enough humor to make readers laugh even as she illuminates dark corners. Although this is aimed at moms, any woman will find this enlightening and encouraging."-- Booklist, STARRED review
***As featured in The Wall Street Journal and Parade.com***
Katherine Wintsch knows firsthand the self-doubt that rages inside modern moms.
As founder and CEO of The Mom Complex, she has studied the passions and pain points of moms worldwide to help some of the largest brands develop innovative new products and services.
As a working mom of two, she was running in an exhausting cycle of "never enough"--not strong enough, not thin enough, not patient enough, not "mom"enough.
In Slay Like a Mother, you'll laugh, you'll cry, and you'll discover eye-opening lessons about:
THE MASK YOU'RE WEARING. The one you hide behind when you say everything is "just fine" when it's not.
YOUR UNREALISTIC EXPECTATIONS. The goal-setting tactics you're deploying to get ahead could be what's holding you back.
THE DIFFERENCE BETWEEN STRUGGLING AND SUFFERING. Being a mother is a struggle ? it always has been ? but your suffering is optional.
Brave, supportive, and insightful, the stories and advice in this book will encourage you to live more confidently, enjoy the present, and become your best self ? as a woman, a mother, and beyond. Perfect for fans of Girl Wash Your Face and #IMomSoHard