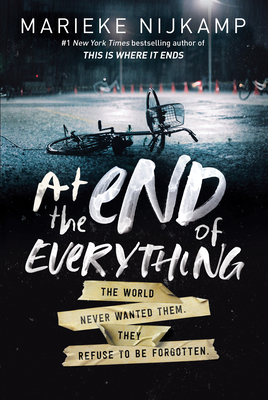 At the End of Everything
Hardcover

* Individual store prices may vary.
Other Editions of This Title:
Digital Audiobook (1/24/2022)
Description
From the #1 New York Times bestselling author of This Is Where It Ends comes another heartbreaking, emotional and timely page-turner that will keep you on the edge of your seat.
The Hope Juvenile Treatment Center is ironically named. No one has hope for the delinquent teenagers who have been exiled there; the world barely acknowledges that they exist.
Then the guards at Hope start acting strange. And one day…they don't show up. But when the teens band together to make a break from the facility, they encounter soldiers outside the gates. There's a rapidly spreading infectious disease outside, and no one can leave their houses or travel without a permit. Which means that they're stuck at Hope. And this time, no one is watching out for them at all.
As supplies quickly dwindle and a deadly plague tears through their ranks, the group has to decide whom among them they can trust and figure out how they can survive in a world that has never wanted them in the first place.
Also by Marieke Nijkamp:
This Is Where It Ends
Even If We Break
Before I Let Go
Praise for Marieke Nijkamp:
"Immersive and captivating. Thrilling in every sense of the word."—Karen M. McManus, #1 New York Times bestselling author of One of Us is Lying on Even If We Break
"With exceptional handling of everything from mental illness to guilt and a riveting, magic realist narrative, this well wrought, haunting novel will stick with readers long after the final page."—Booklist on Before I Let Go *STARRED REVIEW*
"A compelling, brutal story of an unfortunately all-too familiar situation: a school shooting. Nijkamp portrays the events thoughtfully, recounting fifty-four intense minutes of bravery, love, and loss."—BookRiot on This Is Where It Ends
Praise For At the End of Everything…
"Thrilling, raw, and unforgettable. A story about humanity, resilience, and hope. I couldn't put this book down. The story felt so real! Nijkamp at their best!" — Kami Garcia, #1 New York Times bestselling coauthor of Beautiful Creatures
"At the End of Everything is a beautifully rendered, propulsive survival story that speaks to how quickly and irrevocably the world can change—and who those in power choose to leave behind. Taut and tense and truly moving, this gripped me from the opening shocks to the last perfect words." — Nova Ren Suma, bestselling author of The Walls Around Us
""The beautifully written, lyrical prose enhances this riveting, fast-paced thriller that may hit very close to home for readers struggling through the Covid-19 pandemic. The alternating first-person narratives and interspersed phone call transcripts keep readers close to the action and occasionally will bring them close to tears." — Kirkus Reviews" — Kirkus Reviews
"A stomach-churning thriller that delivers prudent social commentary on the complicated reality of being a teen with mental health issues, and what it means to survive when no one cares if you live." — Shelf Awareness
"Palpable fear and paranoia contribute to breathless pacing, while Nijkamp employs a clever setup and keenly wrought characters." — Publishers Weekly
"An engrossing read focused on the teens whom the system often neglects." — Popsugar
"You can always count on Nijkamp for queer thrillers that explore the extremely human sides of terrifying situations." — Buzzfeed
"If you are looking for that instant kick to get you going this new year, Nijkamp's new novel will certainly inspire you to live as if your life depends on it." — Bookstr
"This compulsive YA postapocalyptic novel shows how the "problem" teens society would rather forget can step up and make things better when given the respect they deserve." — Buzzfeed
"This timely, action-packed tale told from multiple points of view will have readers tearing through the pages." — B&N Buzz
"...A well informed and beautifully written story about a group of people facing insurmountable odds that nothing in life can prepare you for. It's the book of our times." — Teen Librarian Toolbox
"This story is unsettling and haunting but also filled with hope showing what happens when a group comes together to establish a community, a sense of belonging, and a certainty that didn't exist before." — School Library Journal
"A poignant pandemic story... shining a bright light on the incarcerated and forgotten" — The Guardian
"At the End of Everything reaches a broad audience for anyone wanting to read more LGBTQ+, disability awareness, juvenile incarceration narratives, or anyone who just loves post-apocalyptic storylines. The novel successfully builds tension, leaving the reader in suspense with the inability to put the book down. The ending will leave readers astonished as this action-packed novel keeps it going right to the end" — New Orleans Review
Sourcebooks Fire, 9781492673156, 400pp.
Publication Date: January 25, 2022
About the Author
MARIEKE NIJKAMP is the #1 New York Times bestselling author of This Is Where it Ends and Before I Let Go. She is a storyteller, dreamer, globe-trotter, geek. She holds degrees in philosophy, history, and medieval studies, has served as an executive member of We Need Diverse Books, and is the founder of DiversifYA. She lives in the Netherlands. Visit her at mariekenijkamp.com.