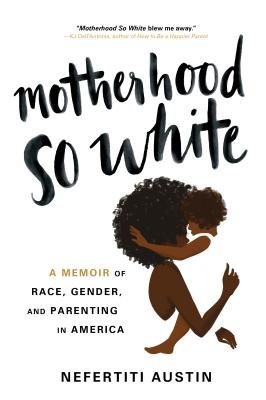 Motherhood So White (Hardcover)
A Memoir of Race, Gender, and Parenting in America
Sourcebooks, 9781492679011, 304pp.
Publication Date: September 20, 2019
Other Editions of This Title:
Paperback (9/1/2020)
Compact Disc (9/24/2019)
Pre-Recorded Audio Player (12/24/2019)
* Individual store prices may vary.
Description
The story every mother in America needs to read
Everyone comes to motherhood differently, and while all moms have to deal with choosing baby names, potty training, finding your village, and answering your kid's tough questions, some moms have to deal with a lot more than that.
Writer and professor Nefertiti Austin chose to start her family by adopting. She knew she wanted to adopt a Black boy out of the Los Angeles foster care system. She also chose to do it as a single mother.
All those factors would make it tough enough, but Nefertiti hadn't bargained with the lack of resources available to her, or the pushback she would get from her own family. You see, Nefertiti is Black and the path she chose to follow was nearly unheard of in her community.
Like all great trailblazers, Nefertiti forged ahead. She wrote her own resources, chose a name, potty trained, and created a community. She is still answering tough questions, both the ones her son asks, and the ones that she is forced to confront because of the color of her child's skin.
In this unflinching account of her parenting journey, Nefertiti examines the history of adoption in the African American community, faces off against stereotypes of single Black moms, and confronts the reality of what it looks like to raise children of color in racially charged, modern-day America.
Honest, vulnerable, and uplifting, Motherhood So White is a fantastic book club read that will explore social and cultural bias, give a new perspective on a familiar experience, and spark meaningful conversations about what it means to be a mom in America today.
1. Describe Nefertiti's relationship with her parents, Diane and Harold, and her grandparents, Ann and Henry. How do you think these relationships formed Nefertiti's first views on parenthood and what it means to be a parent?
2. How did you own upbringing influence your take on what it means to be a parent? What are some of the lessons you've learned through your childhood experiences that influenced how you do or would parent today?
3. What is Nefertiti's experience with "Black adoption," and how did it impact her choices later in life?
4. Nefertiti describes how, suddenly, the stirrings of motherhood turned into an overwhelming desire to pursue becoming a parent. If you are a parent, what moved you to make that decision? Which path to parenthood did you choose?
5. Put yourself in Nefertiti's shoes—if you were telling your family and friends that you've decided to adopt a Black son from the foster care system, how do you think they would react? Were you surprised by the stereotypes and prejudices Nefertiti faced both within and outside her own community? Speak on what you imagine that experience was like for her.
6. What are some of the stereotypes and fears Nefertiti had to confront while raising August in today's racially charged America? What about with Cherish? What were some of the biases Nefertiti personally faced as a single Black mother?
7. Motherhood So White showcases many of the conversations and experiences parents of Black children face—from teaching their children about unconscious bias to explaining the traps embedded in our current cultural landscape. Speak about those conversations. Were there any that surprised you? Any that you, in your own experiences of parenthood, have or haven't had with your own children?