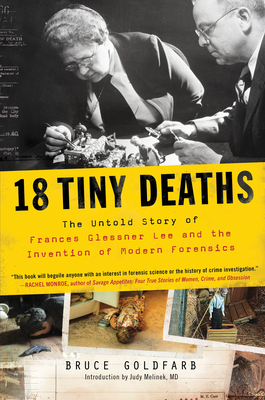 18 Tiny Deaths (Hardcover)
The Untold Story of Frances Glessner Lee and the Invention of Modern Forensics
Sourcebooks, 9781492680475, 368pp.
Publication Date: February 4, 2020
Other Editions of This Title:
Paperback (1/19/2021)
Library Binding, Large Print (10/7/2020)
* Individual store prices may vary.
Description
A captivating blend of history, women in science, and true crime, 18 Tiny Deaths tells the story of how one woman changed the face of forensics forever.
Frances Glessner Lee, born a socialite to a wealthy and influential Chicago family in the 1870s, was never meant to have a career, let alone one steeped in death and depravity.
Yet she developed a fascination with the investigation of violent crimes, and made it her life's work. Best known for creating the Nutshell Studies of Unexplained Death, a series of dollhouses that appear charming--until you notice the macabre little details: an overturned chair, or a blood-spattered comforter. And then, of course, there are the bodies--splayed out on the floor, draped over chairs--clothed in garments that Lee lovingly knit with sewing pins.
18 Tiny Deaths, by official biographer Bruce Goldfarb, delves into Lee's journey from grandmother without a college degree to leading the scientific investigation of unexpected death out of the dark confines of centuries-old techniques and into the light of the modern day.
Lee developed a system that used the Nutshells dioramas to train law enforcement officers to investigate violent crimes, and her methods are still used today.
The story of a woman whose ambition and accomplishments far exceeded the expectations of her time, 18 Tiny Deaths follows the transformation of a young, wealthy socialite into the mother of modern forensics...
"Eye-opening biography of Frances Glessner Lee, who brought American medical forensics into the scientific age...genuinely compelling."--Kirkus Reviews
"A captivating portrait of a feminist hero and forensic pioneer." --Booklist