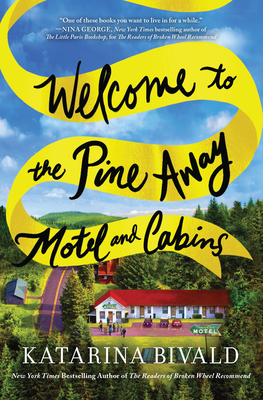 Welcome to the Pine Away Motel and Cabins
Paperback

* Individual store prices may vary.
Other Editions of This Title:
Library Binding, Large Print (1/29/2020)
Description
Katarina Bivald talks about her characters like you talk about your best friends. She gives her story absolutely everything she has.--FREDRIK BACKMAN, #1 New York Times bestselling author of A Man Called Ove
From New York Times bestselling author of The Readers of Broken Wheel Recommend
A charming tale of a ramshackle roadside motel: a heartwarming story of love, friendship, community, and the art of living, even when it's already too late.
The Pine Creek Motel has seen better days. Henny would call it charming, but she's always seen the best in things. Like now, when she's just met an untimely end crossing the road. She's not going to let a tiny thing like death stop her from living fully--not when her friends and family need her the most.
After the funeral is over, her body is buried, and the last casserole dish is empty, Henny is still around. She's not sure why, but she realizes she has one last opportunity to help her friends discover the happiness they once knew before they lose the motel and cabins they've cherished for years.
Schitt's Creek meets The Chicken Sisters with a dash of small-town heart and a whole lot of hope, Welcome to the Pine Away Motel and Cabins is the perfect book club read.
Hopeful, heartening, and humane, this is the novel I needed to read right now.--J. Ryan Stradal, author of The Lager Queen of Minnesota and Kitchens of the Great Midwest
Remarkable...unquestionably a page-turner and full of wisdom. A brave, unusual book, which powerfully portrays friendship and love.--Felicity Hayes-McCoy, author of The Library at the Edge of the World
Sourcebooks Landmark, 9781492681014, 448pp.
Publication Date: January 7, 2020
1. Describe the relationship between Henny, Camila, MacKenzie, and Michael. Would you want to be friends with them? Who was your favorite?
2. Talk about the influence of social media in this book. How did it help the motel? In what ways did social media harm it?
3. Many people in the town claim that they don't hate gay people, but they never speak up in defense of MacKenzie, Camila, or the motel. Does their silence inflict damage? In what way?
4. Discuss Robert, Henny's dad. What is he like? How does he change by the end of the book?
5. Pine Creek is a small town where everyone knows everyone else. Would you, like Henny, want to stay in a place like that? Or would you, like Michael, want to leave?
6. Pine Creek is host to a quirky cast of characters. Did you have a favorite townsperson? Why?
7. You can learn a lot about a person by looking at the people who love them. After reading about MacKenzie, Dolores, Buddy, Alejandro, Camila, and Michael, just to name a few, what did you learn about Henny?
8. As a ghost, Henny tries to influence the people around her by whispering to them. Do you think her efforts work, or do her friends save the day on their own?
9. Talk a little about Stacey and Robert's friendship. How do they help each other?
10. MacKenzie spends her life in a town that unfairly condemns her identity. Why do you think she stays? What would you do?
11. Describe why it was so difficult for Camila to return to Pine Creek. What obstacles did she face? How did she overcome them?
12. How did you feel about Henny staying behind at the Pine Away Motel at the end of the story? Did it strike you as sad?
13. Do you think the town will be able to put aside its differences after Henny's memorial? Why or why not?
14. What do you think happens to Henny after the story ends? Does she stay in Pine Creek? Does she move on?