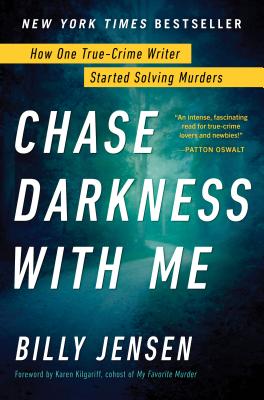 Chase Darkness with Me
How One True-Crime Writer Started Solving Murders
Hardcover

* Individual store prices may vary.
Other Editions of This Title:
Paperback (6/2/2020)
MP3 CD (12/31/2019)
Compact Disc (1/5/2021)
Description
***With an exclusive behind-the-scenes conversation between Billy Jensen and retired detective Paul Holes on the Golden State Killer, their favorite cold cases, and more***
Have you ever wanted to solve a murder? Gather the clues the police overlooked? Put together the pieces? Identify the suspect?
Journalist Billy Jensen spent fifteen years investigating unsolved murders, fighting for the families of victims. Every story he wrote had one thing in common—they didn't have an ending. The killer was still out there.
But after the sudden death of a friend, crime writer and author of I'll Be Gone in the Dark, Michelle McNamara, Billy became fed up. Following a dark night, he came up with a plan. A plan to investigate past the point when the cops had given up. A plan to solve the murders himself.
You'll ride shotgun as Billy identifies the Halloween Mask Murderer, finds a missing girl in the California Redwoods, and investigates the only other murder in New York City on 9/11. You'll hear intimate details of the hunts for two of the most terrifying serial killers in history: his friend Michelle McNamara's pursuit of the Golden State Killer and his own quest to find the murderer of the Allenstown Four. And Billy gives you the tools—and the rules—to help solve murders yourself.
Gripping, complex, unforgettable, Chase Darkness with Me is an examination of the evil forces that walk among us, illustrating a novel way to catch those killers, and a true-crime narrative unlike any you've read before.
Praise For Chase Darkness with Me: How One True-Crime Writer Started Solving Murders…
"An intense, fascinating read for true crime lovers and newbies!" — Patton Oswalt

"In this engrossing memoir, journalist Jensen takes the reader on his quest to hunt down killers using internet sleuthing and crowdsourcing. For fans of true crime, this is a fascinating story" — Publishers Weekly

"Part memoir, part how-to guide, Chase Darkness With Me includes rules for responsible citizen detective work...Jensen has poured nearly all of his free time and energy over the past three years into crowd-sourcing criminal investigations. Some have yielded answers and arrests, like when his social media blitz flushed out a fugitive in the Nashville shooting of Teddy Grasset. Others are still in progress... Even when he accumulated $20,000 in debt from promoting his posts, he's never given up on a case." — Rolling Stone

"Jensen can't stop. Though his crime solving work brings in money through a podcast, his book and consulting for media companies, the real payoff is catching a killer, which he describes as "like a drug." At one point, he juggled 30 cases and rang up tens of thousands of dollars in credit-card debt doing his job. But Jensen has now played a part in clearing 10 homicides, and he hopes others will join the cause." — New York Post

"Through his work, Jensen hopes not only to unearth witnesses and crack cases, but to shift the focus from "propping up these killers and fetishizing them." Instead, he wants to inspire a new generation of true crime viewers and readers to become true crime's superheroes." — Bustle

"True crime is having a moment, and Jensen has helped make that happen... this book will find an easy audience in true crime-readers, "Murderinos" (My Favorite Murder cohost Karen Kilgariff writes the foreword), and anyone fascinated with Michelle McNamara, as well as wannabe detectives, who will be rewarded with Jensen's guide to self-sleuthing." — Booklist
Sourcebooks, 9781492685852, 336pp.
Publication Date: August 13, 2019