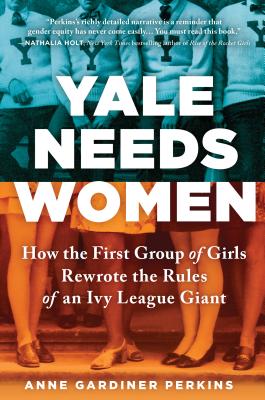 Yale Needs Women
How the First Group of Girls Rewrote the Rules of an Ivy League Giant
Hardcover

* Individual store prices may vary.
Other Editions of This Title:
Digital Audiobook (9/9/2019)
Paperback (7/6/2021)
Description
WINNER OF THE 2020 CONNECTICUT BOOK AWARD FOR NONFICTION AND NAMED ONE OF THE BEST BOOKS FOR BOOK CLUBS IN 2021 BY BOOKBROWSE
"Perkins makes the story of these early and unwitting feminist pioneers come alive against the backdrop of the contemporaneous civil rights and anti-war movements of the 1970s, and offers observations that remain eerily relevant on U.S. campuses today."—Edward B. Fiske, bestselling author of Fiske Guide to Colleges
"If Yale was going to keep its standing as one of the top two or three colleges in the nation, the availability of women was an amenity it could no longer do without."
In the winter of 1969, from big cities to small towns, young women across the country sent in applications to Yale University for the first time. The Ivy League institution dedicated to graduating "one thousand male leaders" each year had finally decided to open its doors to the nation's top female students. The landmark decision was a huge step forward for women's equality in education.
Or was it?
The experience the first undergraduate women found when they stepped onto Yale's imposing campus was not the same one their male peers enjoyed. Isolated from one another, singled out as oddities and sexual objects, and barred from many of the privileges an elite education was supposed to offer, many of the first girls found themselves immersed in an overwhelmingly male culture they were unprepared to face. Yale Needs Women is the story of how these young women fought against the backward-leaning traditions of a centuries-old institution and created the opportunities that would carry them into the future. Anne Gardiner Perkins's unflinching account of a group of young women striving for change is an inspiring story of strength, resilience, and courage that continues to resonate today.
Praise For Yale Needs Women: How the First Group of Girls Rewrote the Rules of an Ivy League Giant…
"Yale Needs Women is a riveting—and long overdue—account of how the first 575 undergraduate women admitted to previously all-male Yale University in 1969 found themselves doing battle with 268 years of entrenched male hegemony in an Ivy League setting. Based on extensive interviews and archival research, Anne Gardiner Perkins weaves a tale of courage in the face of arrogance, frustration giving way to hard-won triumphs, and the redeeming power of shared visions and friendships. Perkins makes the story of these early and unwitting feminist pioneers come alive against the backdrop of the contemporaneous civil rights and anti-war movements of the 1970s, and offers observations that remain eerily relevant on U.S. campuses today." — Edward B. Fiske, bestselling author of Fiske Guide to Colleges
"Yale Needs Women is a riveting and uplifting account of the experiences of Yale's early women coeds—first admitted in 1969. It reveals the multiple barriers faced by these pioneers, as it chronicles their brave efforts to overcome them. Thanks to these champions of women's rights, with similar efforts across the country, opportunities for women have improved. The fight is not over. This inspiring book is a 'must read' for everyone." — Janet L. Yellen, Distinguished Fellow, Brookings Institution
"Yes, Yale needed women, but it didn't really want them. From the moment they arrived in 1969, the first coeds faced a male administration and culture that regarded them as sexual objects, isolated them and offered few female mentors. In her compelling account of the tumultuous early years, Anne Gardiner Perkins tells how these young women met the challenge with courage and tenacity and forever changed Yale and its chauvinistic motto of graduating 1,000 male leaders every year." — Lynn Povich, author of The Good Girls Revolt
"Just in time for the 50thanniversary of the first class of women to enter Yale College, the author's own alma mater, Anne Gardiner Perkins has written an enjoyable and lively history of this event. Through extensive archival research and in-depth interviews with forty-two of the women who matriculated in 1969, Perkins focuses on the experiences of five of these women, recounting both their struggles and their triumphs as they encountered this bastion of male privilege. This beautifully written history also provides a comprehensive view of the many social and political changes that faced the young college women of this era as well as pointing out contemporary problems on college campuses. Yale Needs Women is an important addition to feminist history." — Henry Louis Gates, Jr., Alphonse Fletcher University Professor, Harvard University, and host of PBS's Finding Your Roots
"Yale Needs Women breaks through the male stronghold that once defined the Ivy League and delivers the powerful history of a group of young women bold enough to reshape undergraduate education. Perkins' richly detailed narrative is a reminder that gender equity has never come easily, but instead is borne from the exertions of those who precede us. You must read this book: not only to understand our past but to glean critical insight into the future of our academic institutions." — Nathalia Holt, New York Times bestselling author of Rise of the Rocket Girls
"Perkins tackles the discrimination these brave young women of Yale faced, the tremendous sexism and racism of the time, with stories that will make this #MeToo generation shudder and rage. But amidst these darker moments are the stories of women who shined, who triumphed, who took this opportunity for all that it was worth and showed Yale—and the rest of the country—that women of all backgrounds possess the intellectual rigor and leadership qualities required to deserve a place at this Ivy League institution." — Donna Freitas, author of Consent on Campus
"This smart, lively first book by Perkins, a higher education scholar and Yale graduate, challenges a "sanitized tale of equity instantly achieved" when the elite university, after 268 years, admitted female undergraduates in 1969... Perkins succeeds admirably in restoring these women's fascinating voices and weaving in the larger historical context. This is a valuable contribution to the history of higher education, women, and the postwar U.S." —
Publishers Weekly
"This stunning, engaging work highlights the strength and courage of women who fought for their future against centuries of patriarchy. Perfect for readers interested in seeing how far women have come—and how far they still have yet to go." —
Library Journal, STARRED review
"Perkins (Yale class of 1981) does not sugarcoat history, the 360-degree approach she takes makes
Yale Needs Women
an engaging, entertaining, thoughtful work of popular history." —
Booklist
"lively and engaging account of the college's first class of female students,.." — The New York Times
Sourcebooks, 9781492687740, 384pp.
Publication Date: September 10, 2019
About the Author
Anne Gardiner Perkins is an award-winning historian and expert in higher education. She graduated from Yale University, where she won the Porter Prize in history and was elected the first woman editor in chief of the Yale Daily News. Perkins is a Rhodes Scholar who received her PhD in higher education from the University of Massachusetts Boston and her master's in public administration from Harvard, where she won the Littauer Award for academic excellence and served as a teaching fellow in education policy. She has presented papers on the history of higher education at leading academic conferences and been a visiting scholar at the New England Resource Center for Higher Education. Perkins lives with her husband in Boston.
1. After screening for academic strength, Sam Chauncey and Elga Wasserman looked for toughness when selecting Yale's first women undergraduates. "There was no point in taking a timid woman and putting her in this environment," said Chauncey, "because it could crush you." Do you think they were right to consider a student's toughness? As a high school senior, would you have met this standard?
3. Yale Needs Women focuses in particular on the experiences of five women students—Shirley Daniels, Kit McClure, Lawrie Mifflin, Connie Royster, and Betty Spahn. With which of these five did you identify most closely? Why? Was there another character with which you connected more strongly?
4. Yale may have gone coed in 1969, yet women—whether student, administrator, or professor—were still barred from many of the traditional paths to influence and power, both at Yale and beyond. Can you provide some examples? How did women create power in other ways?
5. What parallels do you see between the experiences and activism of black and white women students at Yale? What are the differences?
6. Yale Needs Women includes a center section of photographs. Choose one and discuss how you first responded to it. What drew you to this photo in particular? What questions, if any, do you still have about it?
7. Yale's first women undergraduates sometimes found themselves the only woman in a classroom full of men. Were you ever the only person of your gender in the room? How did it affect how you behaved? How others behaved towards you? Compare this to a situation in which your gender was in the majority.
8. Yale Needs Women chronicles some of the sexual assault and harassment suffered by Yale's women students. How has this situation improved for women college students since 1969? How has it remained the same?