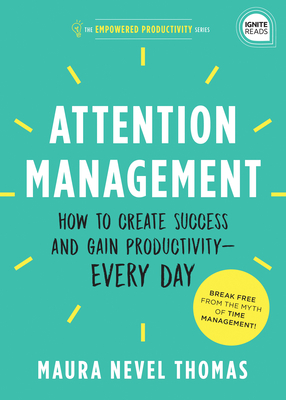 Attention Management
How to Create Success and Gain Productivity — Every Day (Empowered Productivity)
Hardcover

* Individual store prices may vary.
Description
Discover the revolutionary antidote to overload and exhaustion
Have you tried everything to become more productive—but you're still too busy and stressed? That's because the old approaches to productivity just don't work in today's fast-paced, tech-driven workplaces. What does work? Time management is outdated. Attention management is the solution you need.
Attention management is the most essential skill you need to live a life of choice rather than a life of reaction and distraction. It's a collection of behaviors, including focus, mindfulness, control, presence, flow, and other skills, that will support your success. Productivity speaker, trainer, and author Maura Nevel Thomas shows you how to master attention management with practical strategies that make an immediate impact.
Praise For Attention Management: How to Create Success and Gain Productivity — Every Day (Empowered Productivity)…
"In Attention Management, Maura Thomas's unique reimagining of productivity is a lifesaver to all of the busy people who are feeling increasingly impatient and frazzled! She offers a practical, groundbreaking solution that allows readers to finally focus on their most important objectives and be more present where it really counts." — Dorie Clark, author of Entrepreneurial You and Reinventing You

"If you operate in a perpetual state of overwhelm and are looking for a better way to achieve professional goals and enhance your personal well-being at the same time, this highly solution oriented book is for you." — Valerie Young, EdD, author of The Secret Thoughts of Successful Women

"Maura's compelling argument to leave the concept of "time management" in the past and embrace the idea of "attention management"represents new thinking in the field and paves the way for productivity breakthroughs. If you are someone who has tried various time management strategies but has repeatedly come up short, Attention Management will not only explain why, but will help you create your "holy grail" of productivity." — Gustavo R. Grodnitzky, PhD, psychologist and professional Speaker

"The world is designed to distract us. Having read nearly a hundred different books about leadership, productivity, habits, and effectiveness, Maura's latest book covers focus—through attention management for productivity—more succinctly than any other I have read. These are real solutions to elevate your game." — Ryan Sitton, family man, entrepreneur, inventor, CEO, and elected official
Simple Truths, 9781492689508, 136pp.
Publication Date: September 9, 2019
About the Author
Maura Nevel Thomas is an award-winning international speaker and trainer on individual and corporate productivity and work-life balance. She is a TEDx Speaker and founder of Regain Your Time.