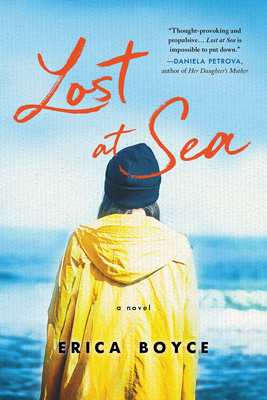 Lost At Sea
Paperback

* Individual store prices may vary.
Description
The Guest Book meets Everything I Never Told You in this gripping novel of a small town caught up in a shocking disappearance, and the lengths we will go to protect the ones we love.
When beloved fisherman John Staybrook vanishes in the night, his loss stirs up more than grief. His daughter Ella is convinced he's still alive and vows to bring him home.
But as she searches the small Massachusetts town, secrets throughout the community begin to bubble to the surface. As the pieces fall into place of what really happened, everyone from the babysitter to the local librarian are swept into a more urgent question: Why would someone go out in the middle of a deadly storm?
Erica Boyce weaves a tense yet hopeful tale of family legacies whispering across the rocky shores and the unshakeable strength that love leaves behind.
Lost at Sea is compelling book club suspense, a tale of family mysteries, addiction, and small-town secrets that were never supposed to be told.
Praise For Lost At Sea…
"Lost at Sea is a gripping novel about a fishing community and the daily dangers which await them, and the complex relationships surfacing when one of their own disappear. Set in the small New England town of Devil's Purse, Boyce has weaved a spellbinding and atmospheric tale of community, family bonds, love and loss, and the fortitude needed to survive in an unforgiving landscape." — Kim Michele Richardson, author of The Book Woman of Troublesome Creek
"Erica Boyce has crafted a heartfelt, deeply moving novel about identity, friendship and family. Thought-provoking and propulsive, with a strong sense of place and a set of intriguing, complex characters, Lost at Sea is impossible to put down." — Daniela Petrova, author of Her Daughter's Mother
"With beautiful, tender prose and a captivating web of characters, Lost at Sea is a masterful portrait of a fishing village marked by tragedy—and all the secrets therein. Boyce has crafted a poignant and thought-provoking narrative that stuck with me long after I read the final page." — Andrea Bartz, author of The Lost Night
"In Lost at Sea, the fear and despair of losing a loved one to the sea is heightened by the helplessness of substance addiction suffered by two young women. This could have been a desperate and sorrowful story, yet in Erica Boyce's skillful hands, it is one of courageous love and the promise of healing through honest connection. The characters lingered in my mind and heart, like dear friends, long after I finished reading." — Kelli Estes, USA Today bestselling author of The Girl Who Wrote in Silk and Today We Go Home
"Lost at Sea is packed with surprises. A story of secrets, addiction, and what it means to be a family, set against the backdrop of a coastal fishing town so vividly rendered I could almost hear the waves." — Haley Harrigan, author of Secrets of Southern Girls
"Readers will devour this convincing portrait of a tough New England town, brought to life with lush prose and well-developed characters." —
Publishers Weekly
"Lost at Sea is a story of love, loss, and grief, and of people who try their darndest to do the right thing, but have it turn out all wrong anyway." —
New York Journal of Books
"[Boyce's] heartfelt writing covers a myriad of themes through characters dealing with anxiety, addiction, and grief. Readers looking for contemporary novels that make complex issues accessible will be drawn to this one." —
Booklist
Sourcebooks Landmark, 9781492689737, 304pp.
Publication Date: March 3, 2020
About the Author
Erica Boyce is a graduate of Dartmouth College and Harvard and the author of The Fifteen Wonders of Daniel Green. She lives outside of Boston with her husband and a corgi named Finn.
or
Not Currently Available for Direct Purchase