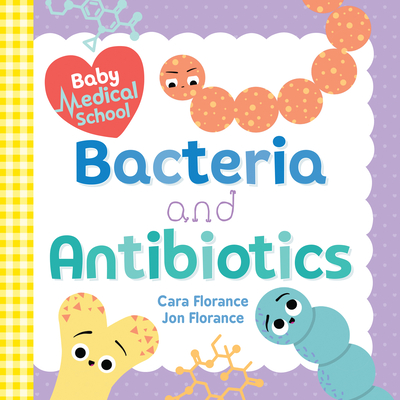 Baby Medical School (Board Books)
Bacteria and Antibiotics (Baby University)
Sourcebooks Explore, 9781492693987, 24pp.
Publication Date: April 7, 2020
* Individual store prices may vary.
Description
The popular Baby University series has now expanded into Baby Medical School
Bacteria are very small living things.
Some bacteria are good and some bacteria are bad.
Luckily, we have a family of medicine called Antibiotics that can get rid of bad bacteria.
Let's find out how it all works
Turn getting sick from something scary into an engaging learning experience In this installment of the new Baby Medical School series, Cara and Jon Florance break down how and why we get sick with the help of merry microbes and big-eyed bacteria. Kids will love following the adventures of bacteria and antibiotics in their bodies
Written by experts, the whimsical artwork and humorous text is perfect for enlightening the next generation of geniuses and creating a love for science they will carry for a lifetime
Empower your kid with knowledge so they can understand their bodies with courage and curiosity