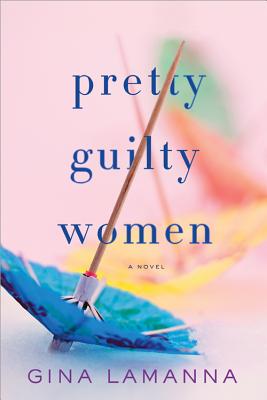 Pretty Guilty Women
Hardcover

* Individual store prices may vary.
Other Editions of This Title:
Paperback (7/7/2020)
Description
"This is the perfect summer beach read."--Publishers Weekly
Pretty Guilty Women is the summer thriller for any fan of Big Little Lies looking for beautiful views, romantic escapes, and a surplus of murder suspects.
Something has gone terribly wrong to turn the Banks wedding into a murder mystery. Four different women rush to offer confessions, each insisting that they committed the crime--alone.
Ginger is holding her family together by a thread. Kate is used to buying her way out of everything. Emily's drowning her whole vacation in a bottle. Lulu's been getting rid of men for years--and has the ex-husbands to prove it.
Four women, holding their friends close and their secrets closer. Four confessions. One murder. Only these women know what really happened--and they're not telling.
A suspenseful twist on the classic beach read, Pretty Guilty Women is page-turning thriller perfect for fans of Liv Constantine and Liane Moriarty.
Sourcebooks Landmark, 9781492694069, 336pp.
Publication Date: September 3, 2019
1. Lulu, Ginger, Kate, and Emily all have their different situations and secrets. Which woman did you enjoy reading the most? Who do you think you're the most like? Why?
2. What do the four women—Lulu,Ginger, Kate, and Emily—all have in common? What are some of their core differences?
3. Do you think Ginger handles the situation with Elsie and the condoms well? If you were in her shoes, what would you have done differently? Why do you think Elsie reacts the way she does?
4. Lulu begins to wonder if her marriage to Pierce is about to fall apart, so she calls on her ex-husband

Anderson to ask why her relationships fail. Imagine being in Lulu's situation. Would you ever call an ex for this? Have you remained close to an ex before? What was that relationship like?
5. Describe the events that led to Ginger and Emily's feud. Do you think Ginger's reaction to seeing Emily after all these years was warranted? If you were Emily, how would you have responded in that situation?
6. What are some of the triggers Emily faces at the resort? Why does she begin to break down?
7. Why does Kate feel the need to help Sydney? What are some of the parallels between the two? What about between Emily and Sydney?
8. Describe the relationship each woman has with children and parenthood. How is that theme woven throughout the story?
9. Why do you think Elsie is able to open up to Kate? Did you ever have an adult or older confidant when you were that age?
10. How do all the women end up on the patio the night of the rehearsal dinner? Why do you think they all claim to be guilty? Who is actually guilty?
11. What happens to the women after the wedding ends? Why do you think Kate tracks down Sydney one last time? If you were Kate, would you believe Sydney's story?