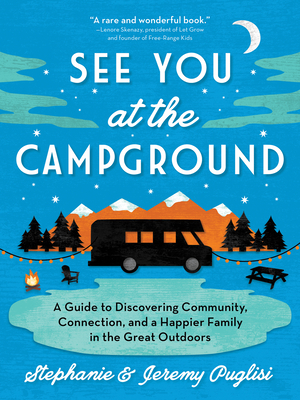 See You at the Campground (Paperback)
A Guide to Discovering Community, Connection, and a Happier Family in the Great Outdoors
Sourcebooks, 9781492694656, 320pp.
Publication Date: March 3, 2020
* Individual store prices may vary.
Description
A family-friendly guide to planning amazing outdoor adventures--because the best memories are the ones made around the campfire.
New parents Stephanie and Jeremy Puglisi worried their days of traveling were over--with full-time jobs and infant twins, taking time off to go exploring hardly seemed possible. But they missed the way that travel brought them closer together and knew it would help them grow as a family. So, they bought a pop-up camper and embarked on the adventure of a lifetime. The campground was their vacation destination, and Stephanie and Jeremy became experts at creating lasting family memories without breaking the bank. Now you can too
Whether you're new to camping or a seasoned pro, hit the road with Stephanie and Jeremy as they show you the different ways that camping can lead to a happier, healthier family. From hiking with infants, to navigating RV dealerships and mixing the perfect campfire cocktails--these campers have tried it all, and See You at the Campground is packed with personal anecdotes, packing lists, site recommendations, and recipes that will foster a love of the outdoors.
The perfect resource for all parents, this is the ultimate guide to growing closer as a family every time you set up camp--whether it's in a cabin, tent, or RV. So, grab some trail mix and hit the road--and we'll see you at the campground