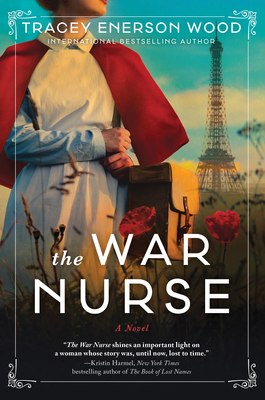 The War Nurse
Hardcover

* Individual store prices may vary.
Other Editions of This Title:
Digital Audiobook (7/5/2021)
Library Binding, Large Print (1/26/2022)
Paperback (3/8/2022)
Description
Any readers who enjoyed the mix of romance, intrigue, and medical accuracy of Call the Midwife will love The War Nurse.--New York Journal of Books
An] impeccably researched, well-drawn, based-on-a-true-story tale, written by a former RN...The War Nurse shines an important light on a woman whose story was, until now, lost to time.--Kristin Harmel, New York Times bestselling author of The Book of Lost Names
Based on a true story, The War Nurse is a sweeping historical novel by USA Today bestselling author Tracey Enerson Wood that takes readers on an unforgettable journey through WWI France.
She asked dozens of young women to lay their lives on the line during the Great War. Can she protect them?
Superintendent of Nurses Julia Stimson must recruit sixty-four nurses to relieve the battle-worn British, months before American troops are ready to be deployed. She knows that the young nurses serving near the front lines will face a challenging situation, but nothing could have prepared her for the chaos that awaits when they arrive at British Base Hospital 12 in Rouen, France. The primitive conditions, a convoluted, ineffective system, and horrific battle wounds are enough to discourage the most hardened nurses, and Julia can do nothing but lead by example--even as the military doctors undermine her authority and make her question her very place in the hospital tent.
When trainloads of soldiers stricken by a mysterious respiratory illness arrive one after the other, overwhelming the hospital's limited resources, and threatening the health of her staff, Julia faces an unthinkable choice--to step outside the bounds of her profession and risk the career she has fought so hard for, or to watch the people she cares for most die in her arms.
Fans of Martha Hall Kelly's Lost Roses and Marie Benedict's Lady Clementine will devour this mesmerizing celebration of some of the most overlooked heroes in history: the fierce, determined, and brave nurses who treated soldiers in World War I.
Praise for The War Nurse:
Through careful research, this book shows the incredible bravery and compassion of women who find themselves in extraordinary situations.
--Julia Kelly, international bestselling author of The Last Garden in England and The Light Over London
A rich, gripping history of one woman's lifelong battle against systemic prejudice.
--Stewart O'Nan, award-winning author of The Good Wife
Once again, Tracey Enerson Wood, with her impeccable research and evocative prose, kept me glued to the page. Wood has a talent for bringing strong, yet lesser-known women from history, to life.
--Linda Rosen, author of The Disharmony of Silence
A riveting and surprisingly timely story of courage, sacrifice, and friendship forged at the front lines.
--Kelly Mustian, author of The Girls in the Stilt House
If you, like me, are a voyeur of historical drama that unfolds as if the kitchen window flew open and the characters were caught in action, then The War Nurse is for you.
--Diane Dewey, author of Fixing the Fates
Fans of Patricia Harman will love Wood's treatment of medical expertise in a historical setting.
--Booklist
Sourcebooks Landmark, 9781492698166, 304pp.
Publication Date: July 6, 2021
1. How much did you know about nursing (particularly World War I–era nursing) before reading this book? What was the most surprising thing you learned?
2. If you were told that your entire workplace was uprooting to support a war effort, what would your first reaction be? Did Julia have a real choice when it came to shipping out?
3. Both Julia and the doctors she assists can be territorial about their authority. How does this affect their working dynamics? Are there any consequences for the patients the team treats?
4. Julia and Dr. Murphy discuss the ethical and procedural challenges of authorizing nurses to perform lifesaving procedures on their own. Compare the benefits and drawbacks of strictly following protocol to the consequences of a nurse performing whatever procedures she feels are best.
5. Dr. Murphy compares the doctor's role to that of a car mechanic and gives the majority of the healing credit to nurses. What do you think is a nurse's most important role? How would you rank their importance next to doctors?
6. Julia hesitates in her relationship with Fred, not wanting to feed the rumor mill. How does outside opinion influence relationships? Compare the rumor mill of Base Hospital 21 to today's social media. How do their relative positions affect their willingness to "let the chips fall where they may" when they begin seeing each other more seriously?
7. What did you think of Julia's choice to keep her skin condition a secret? Do you think she was right to fear dismissal? What were the consequences of her decision?
8. How does the 1918 Spanish flu outbreak compare to the 2020 novel coronavirus? Are there lessons that can be learned from the way Julia and her nurses battle their pandemic?
9. Did Julia do the right thing by violating protocol to operate on Private Dempsey? What would you have done in her place?
10. What did you think of the final scene of the book? Can you think of a moment you wanted to bottle up and keep forever? What do you think is next for Julia and Fred?