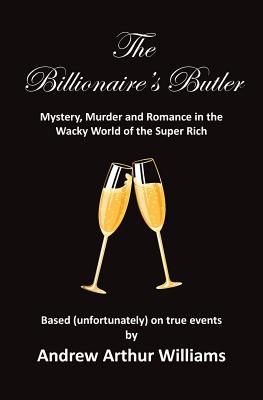 The Billionaire's Butler (Paperback)
Mystery, Murder and Romance in the Wacky World of the Super Rich
Createspace Independent Publishing Platform, 9781492805557, 290pp.
Publication Date: December 11, 2013
* Individual store prices may vary.
Description
Step out of your ordinary life and into the glamorous world of the superrich, where luxury, leisure, and excess can be found around every exquisitely decorated corner, and so too can betrayal, secrecy, and deception.
From within the home of an incredibly wealthy, prominent family comes The Billionaire's Butler, an entirely entertaining story of mystery and romance among society's finest, as told by a butler who serves them. Inspired by actual events and paralleling an Internet blog of the same title, it delivers a fictional insider's view of the wacky world of the superrich and tells tale of their outlandish behavior and mind-boggling, extravagant needs.
The story follows butler Andrew Arthur Williams as he reviews his life in the billionaire's world following a murder attempt made against the family he works for. He lightheartedly describes each of the characters under suspicion and outlines the astonishing events leading up to the crime, and after it. Andrew also delivers a lot of gossipy, chatty information about how the rich really live and, ultimately, reminds us that, despite their wealth and power, rich people are subject to the same human frailties as the rest of us.
About the Author
Suffocating in an office cubicle, Andrew Arthur Williams abandoned the corporate world on Wall Street in favor of a lifetime of travel, exploration, and service jobs. Tutoring English in European countries, waiting tables on cruise ships, driving limousines in Hollywood, and shuffling luggage in five-star hotels, he acquired the necessary skills and patience to deal with the oddities, quirks, and mind-boggling needs of the superrich. Combining these skills and languages learned along the way, Williams attended a prestigious butler school and thereafter moved into private service. In 2011, astonished by the way the superrich live and conduct themselves, he launched a blog entitled The Billionaire's Butler, at www.thebillionairesbutler.com, which has since attracted tens of thousands of readers from across the globe. William's debut book, of the same title, is a fictionalized insider's look at the life of the superrich that, like his blog, is based on actual events.