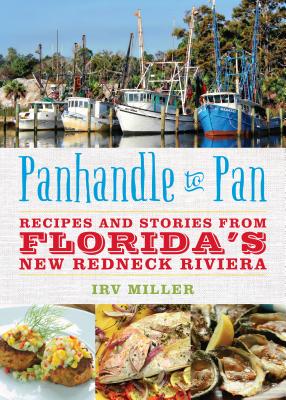 Panhandle to Pan (Paperback)
Recipes and Stories from Florida's New Redneck Riviera
Globe Pequot Press, 9781493008148, 304pp.
Publication Date: December 7, 2015
* Individual store prices may vary.
Description
The Florida Panhandle is the last great regional culinary secret of the state of Florida. The foods and agriculture of Florida's Northwest Gulf of Mexico touch the cultural heart and soul of all who visit the region. With fresh seafood such as blue crab and grouper, just-picked produce such as peaches and corn, and traditional foods like fried catfish and hushpuppies, the Florida Panhandle is one of the last unwritten about culinary areas of the country. Geographically closer to Alabama, Mississippi, and Louisiana than Central and South Florida, Northwest Florida's cooking traditions are heavily influenced by the surrounding states. Chef Irv Miller, in his first cookbook Panhandle to Pan: 150 Recipes and Stories of Florida's New Redneck Riviera, takes readers on a journey through this agriculturally abundant region, sharing personal stories, expertise, and unique recipes from throughout the Florida Panhandle. With personalized head notes and sidebars, a historical timeline detailing how cuisine developed in the region, and recipes for every occasion, Panhandle to Pan is sure to convince readers that the Florida Panhandle is a lot more than sandy soil and real estate development.
About the Author
Chef Irv Miller has been working along the Florida Panhandle and writing about the foods of the Gulf Coast for three decades. He has received regional acclaim for his Northwest Florida Cooking during the Florida Cuisine movement, and in 1999, along with his partners, opened Jackson's Steakhouse in Pensacola, where he is executive chef. Miller wrote the weekly food column for Pensacola's Independent News for two years as well as hosted the PBS show Flavors of the Coast. He is a contributor to the "Chef's Corner" column in the Pensacola New Journal, Jackson's Steakhouse monthly newsletter, and the Viva Florida 500 website, and has appeared on Emeril's Florida television episode "Viva Florida." Miller's short essay and recipes are included in The Lodge Cast Iron Cookbook 2014, and he was selected to represent the state of Florida in the Great American Seafood Cook-Off 2012. Chef Miller has been a five-time performing chef for the James Beard Foundation, and has served three years as a founding member of the Pensacola Celebrity Chefs. Miller's longtime commitment has been to the Florida Panhandle and Southern-inspired foods. He lives in Pensacola, Florida.
or
Not Currently Available for Direct Purchase