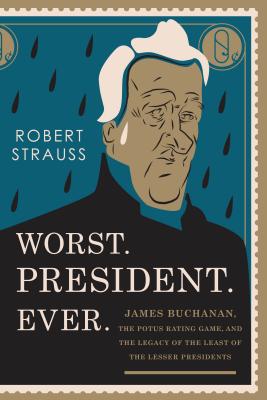 Worst. President. Ever. (Hardcover)
James Buchanan, the POTUS Rating Game, and the Legacy of the Least of the Lesser Presidents
Lyons Press, 9781493024834, 304pp.
Publication Date: October 1, 2016
Other Editions of This Title:
Paperback (9/1/2017)
MP3 CD (12/27/2016)
Compact Disc (12/27/2016)
* Individual store prices may vary.
Description
Foreword Reviews' INDIEFAB Book of the Year Winner in Biography Worst. President. Ever. flips the great presidential biography on its head, offering an enlightening--and highly entertaining --account of poor James Buchanan's presidency to prove once and for all that, well, few leaders could have done worse. But author Robert Strauss does much more, leading readers out of Buchanan's terrible term in office--meddling in the Dred Scott Supreme Court decision, exacerbating the Panic of 1857, helping foment the John Brown uprisings and "Bloody Kansas," virtually inviting a half-dozen states to secede from the Union as a lame duck, and on and on--to explore with insight and humor his own obsession with presidents, and ultimately the entire notion of ranking our presidents. He guides us through the POTUS rating game of historians and others who have made their own Mount Rushmores--or Marianas Trenches --of presidential achievement, showing why Buchanan easily loses to any of the others, but also offering insights into presidential history buffs like himself, the forgotten "lesser" presidential sites, sex and the presidency, the presidency itself, and how and why it can often take the best measures out of even the most dedicated men.
About the Author
Journalist, educator, historian and author Robert Strauss has been a reporter for Sports Illustrated, a feature writer for the Philadelphia Daily News, a news and sports producer for an NBC affiliate, and a TV critic for the Philadelphia Inquirer and the Asbury Park Press. He has more than 1000 bylines in the New York Times, and also writes for the Washington Post, the Los Angeles Times, the Philadelphia newspapers, Sports Illustrated, Fortune, and more. He is the author of Daddy's Little Goalie. A father of two daughters, he lives in Haddonfield, New Jersey, with his wife Susan Warner.
Coverage from NPR
or
Not Currently Available for Direct Purchase