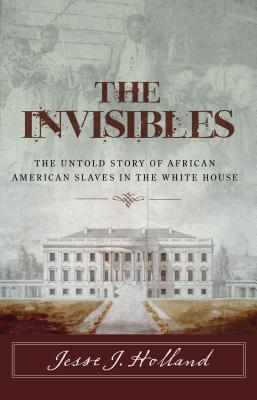 The Invisibles
The Untold Story of African American Slaves in the White House
Paperback

* Individual store prices may vary.
Other Editions of This Title:
Digital Audiobook (2/1/2016)
Hardcover (1/1/2016)
MP3 CD (2/2/2016)
Compact Disc (2/2/2016)
Description
THE INVISIBLES: Slavery Inside The White House and How It Helped Shape America is the first book to tell the story of the executive mansion's most unexpected residents, the African American slaves who lived with the U.S. presidents who owned them. Interest in African Americans and the White House are at an all-time high due to the historic presidency of Barack Obama, and the soon-to-be-opened Smithsonian National Museum of African American Culture and History. The Invisibles chronicles the African American presence inside the White House from its beginnings in 1782 until 1862, when President Abraham Lincoln issued the Emancipation Proclamation that granted slaves their freedom. During these years, slaves were the only African Americans to whom the most powerful men in the United States were exposed on a daily, and familiar, basis. By reading about these relationships, readers will better understand some of the views that various presidents held about class and race in American society, and how these slaves contributed not only to the life and comforts of the presidents they served, but to America as a whole.
Lyons Press, 9781493029679, 240pp.
Publication Date: September 1, 2017
About the Author
Jesse J. Holland is the author of Black Men Built the Capitol: Discovering African American History In and Around Washington, D.C. (Globe Pequot, 2007) and a longtime Washington correspondent for The Associated Press, the world's largest news organization. Since moving to Washington, D.C. in 2000, Holland has covered the White House, the Congress, and the Supreme Court for The AP. A regular guest on CNN, NBC, Fox News, PBS, C-SPAN's Washington Journal and ABC's News Now, Holland speaks frequently on African American and Washington political topics. Holland is a member of the National Press Club, the National Association of Black Journalists, the Capital Press Club, the Washington Association of Black Journalists, and the Society of Professional Journalists. Holland is a sought after-speaker on African American history and politics, having lectured at universities and institutions like Georgetown University in Washington, D.C. and the Schomburg Center for Research in Black Culture in New York City. Holland lives in Bowie, Maryland, with his wife and children.