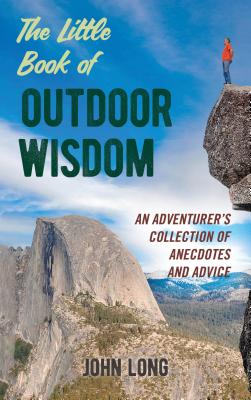 The Little Book of Outdoor Wisdom (Hardcover)
An Adventurer's Collection of Anecdotes and Advice
Falcon Press Publishing, 9781493034734, 194pp.
Publication Date: September 24, 2019
* Individual store prices may vary.
Description
There's a reason we pause at the vista overlook and be quiet for a second. The wilderness, or simply being outside in the natural world, provides us with a psychological reboot. It declutters our minds, washes off the guff, gives us a chance to see and feel ourselves as expansively as the Tunnel Overlook in Yosemite Valley. But the process is different, and in some ways, more powerful than the benefits we get from sleep. The Little Book of Outdoor Wisdom is a collection of all-new essays from legendary climber and outdoor writer John Long, an exploration of what connects us fundamentally to the outdoors and of why we return again and again. Through evocative anecdotes and sketches, told in Long's visceral yet poignant style, readers will rediscover their love for nature and glean a deeper appreciation for its rejuvenating effect.
About the Author
John Long is an acclaimed rock climber and author of more than forty books, including several in Falcon's catalog. He is one of the most prolific adventure writers out there and has authored magazine articles, screenplays, documentary films, and television and movie scripts, as well as instructional rock climbing books. Beginning in the mid-1970s with his historic one-day ascent of the Nose route on El Capitan, Long became a mainstay in the world of extreme sports and adventure. He and his elite group of climbers, the "Stonemasters", ushered in a new era of big wall climbing with their epic climbs in Yosemite National Park and elsewhere. In the years that followed, John Long transitioned from rock climbing to international exploration, traveling around the world from the jungles of Southeast Asia to the North Pole. Some of his many achievements include the first coast-to-coast traverse of Borneo and the discovery and exploration of the world's largest river cave. John Long has also built a successful television and film career, producing the International Guinness Book of World Records television show before moving to feature films. The Sylvester Stallone movie, Cliffhanger, is based on one of Long's stories. In recent years, John Long has continued to write books and articles and to work in television and film. He is also an Adidas Ambassador and frequently works with them at various events around the country.