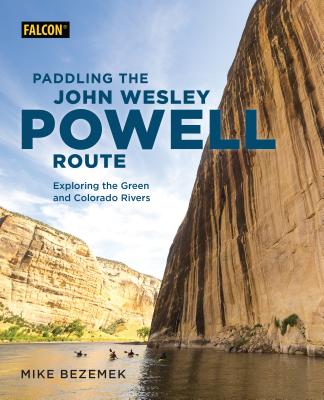 Paddling the John Wesley Powell Route (Paperback)
Exploring the Green and Colorado Rivers
Falcon Press Publishing, 9781493034819, 272pp.
Publication Date: October 1, 2018
* Individual store prices may vary.
Description
The John Wesley Powell Route offers some of the most adventurous paddling in the United States. Across six Southwestern states, paddlers will find trips for all abilities and timeframes--from a few hours to a few months. Canoe trips in Canyonlands. Whitewater rafting in Dinosaur National Monument and Cataract Canyon. Peaceful floats in Browns Park or the Uinta Basin. Paddleboarding on Flaming Gorge Reservoir and Lake Powell. Afternoon kayaking in Red Canyon or a week-long expedition through Desolation Canyon. Plus, the original trip of a lifetime down the Grand Canyon. Along the way, side-hike to ancestral ruins, historic sites, and unexpected waterfalls. With Paddling the John Wesley Powell Route as your guide, come explore the same sections of the Green and Colorado Rivers as the 1869 expedition--and learn firsthand about one of the greatest adventure stories in American history. Explore the JWP route with: - Practical information for planning your own trips, joining guided trips, obtaining permits, hiring shuttles, renting equipment, and visiting classic sites. - Stunning photos and detailed descriptions of what to expect, including river difficulty and challenges. - Overview maps and GPS coordinates for access points along the route. - Details on further reading, relevant museums, and off-river sites. - Interviews and stories about modern explorations along the route, plus a lively retelling of the dramatic 1869 expedition.
About the Author
Mike Bezemek is the author and photographer of books, blogs, and articles for a variety of publications, including the guidebook Paddling the Ozarks for Falcon Guides. As a contributing editor for Canoe & Kayak Magazine, he writes two recurring series--Regular Paddler, Remarkable Waters and Weekend Expeditions. Other projects include a bikepacking article series for Adventure Cyclist Magazine and a satirical review series about "shitty" beer that is currently seeking a new home. Twit Lit Classics, for Sky Horse Publishing, is a humorous literature companion book series which reimagines classic works of adventure literature as Twitter feeds. And his blog Hot Mess of an Adventure Writer Tells All: Confessions, Lessons, and Mishaps from the Field can be found at hotmessadventure.com. View his work or contact him at mikebezemek.com.