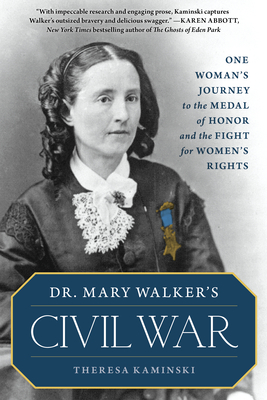 Dr. Mary Walker's Civil War (Hardcover)
One Woman's Journey to the Medal of Honor and the Fight for Women's Rights
Lyons Press, 9781493036097, 336pp.
Publication Date: June 1, 2020
* Individual store prices may vary.
Description
"I will always be somebody." This assertion, a startling one from a nineteenth-century woman, drove the life of Dr. Mary Edwards Walker, the only American woman ever to receive the Medal of Honor. President Andrew Johnson issued the award in 1865 in recognition of the incomparable medical service Walker rendered during the Civil War. Yet few people today know anything about the woman so well-known--even notorious--in her own lifetime. Kaminski shares a different way of looking at the Civil War, through the eyes of a woman confident she could make a contribution equal to that of any man. This part of the story takes readers into the political cauldron of the nation's capital in wartime, where Walker was a familiar if notorious figure. Mary Walker's relentless pursuit of gender and racial equality is key to understanding her commitment to a Union victory in the Civil War. Her role in the women's suffrage movement became controversial and the US Army stripped Walker of her medal, only to have the medal reinstated in 1977.
About the Author
Theresa Kaminski earned her Ph.D. in history, with a specialization in American women's history, from the University of Illinois at Urbana-Champaign. She has spent more than twenty-five years researching and writing about American women. Kaminski regularly reviews nonfiction titles for Publishers Weekly and has been published with the Wall Street Journal.