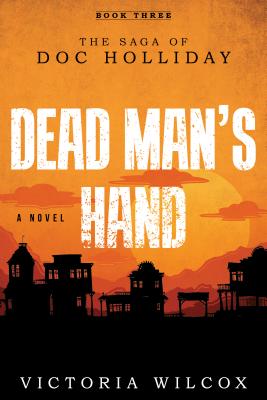 Dead Man's Hand (Paperback)
The Saga of Doc Holliday
Two Dot Books, 9781493044733, 480pp.
Publication Date: September 1, 2019
* Individual store prices may vary.
Description
His name conjures images of the Wild West, of gunfights and gambling halls and a legendary friendship with the lawman Wyatt Earp. But before Doc Holliday was a Western legend he was a Southern son, born in the last days before the American Civil War and raised to be a Southern gentleman. His story sweeps from the cotton plantations of Georgia to the cattle country and silver boomtowns of the American West. The Saga of Doc Holliday comes to a dramatic conclusion in Dead Man's Hand. Tombstone, Arizona Territory, is the richest silver boom town in the country, promising fortunes to anyone daring enough to stand up to the stage coach robbers and rustlers who infest the nearby mountains. But John Henry Holliday is only trying to make a little money off the gambling tables when he's caught up in a secretive plot to stop the disturbances before they start a threatened war with Mexico. When suspicions rise and tempers ignite, the plot turns into a war between cowboys and lawmen, and he becomes a player in the most famous street fight in the Wild West.
About the Author
Victoria Wilcox is Founding Director of Georgia's Holliday-Dorsey-Fife House Museum (the antebellum home of the family of Doc Holliday, now a site on the National Register of Historic Places), where she learned the family's untold stories of their legendary cousin. Her work with the museum led to two decades of original research, making her a nationally recognized authority on the life of Doc Holliday. She is the author of the documentary film In Search of Doc Holliday, and the award-winning historical novel trilogy The Saga of Doc Holliday for which she twice received Georgia Author of the Year honors and in 2016 was named Best Historical Western Novelist by True West Magazine. She has lectured across the country, appeared in local and regional media, guested on NPR affiliates, and was featured in the Fox Network series Legends & Lies: The Real West. She is a member of the Western Writers of America, Women Writing the West, the Wild West History Association, and the Writer's Guild of the Booth Museum of Western Art and has been a featured contributor to True West Magazine. In the summer of 2017, she joined actor Val Kilmer (Tombstone) as guest historian at the inaugural "Doc HolliDays" in Tombstone, Arizona, site of the legendary OK Corral gunfight.