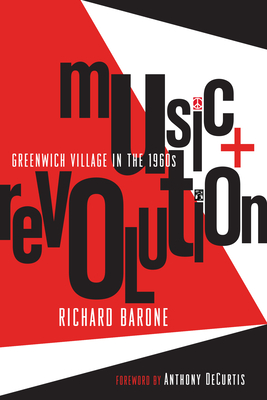 Music + Revolution
Greenwich Village in the 1960s
Paperback

* Individual store prices may vary.
Description
Even before the Beatnik Riots of 1961, New York City's Greenwich Village was the epicenter of revolutionary movements in American music and culture. But, in the early 1960s and throughout the decade, a new wave of writers and performers inspired by the folk music revival of the 1950s created socially aware and deeply personal songs that spoke to a generation like never before. These writers--Bob Dylan, Buffy Sainte-Marie, Janis Ian, and Phil Ochs, to name a few--changed the folk repertoire from traditional songs to songs sprung from personal, contemporary experiences and the nation's headlines, raising the level of political self-expression to high art. Message and music merged and mirrored society. In Music + Revolution: Greenwich Village in the 1960s, Richard Barone unrolls a freewheeling historical narrative, peppered with personal stories and insights from those who were there. Illustrated with contemporaneous portraits of the musicians by renowned photographer David Gahr, it celebrates the lasting legacy of a pivotal decade with stories behind the songs that resonate just as strongly today.
Backbeat Books, 9781493063017, 312pp.
Publication Date: September 15, 2022
About the Author
Richard Barone is a recording artist, performer, producer, professor, and author. Since pioneering the indie rock scene in Hoboken, NJ, as frontman of The Bongos, Barone has worked with artists in every musical genre including Donovan, Lou Reed, and folk legend Pete Seeger. He has produced concert events at Carnegie Hall, the Hollywood Bowl, and SummerStage in Central Park. His album Sorrows & Promises is a celebration of the 1960s music scene in Greenwich Village, where Barone lives. He currently teaches the course "Music + Revolution" at The New School's School of Jazz & Contemporary Music, serves on the Advisory Board of Anthology Film Archives, has served on the Board of Governors of The Recording Academy (GRAMMYs), and hosts Folk Radio on WBAI New York.