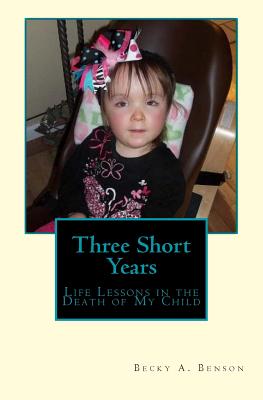 Three Short Years (Paperback)
Life Lessons in the Death of My Child
Createspace Independent Publishing Platform, 9781493509737, 152pp.
Publication Date: October 16, 2013
* Individual store prices may vary.
Description
When author Becky A. Benson and her husband found out that their precious ten month old daughter was terminally ill with a very rare genetic condition it set them on a path they never expected to be on. A path of anger, confusion, sadness, and ultimately one of unconditional love, faith, and great joy. This special child taught Becky and her family so much about the importance and beauty of life all without ever speaking a single word in her Three Short Years.
About the Author
Becky A. Benson lives in Washington state with her family. Aside from writing she is a member of, and advocate for the National Tay-Sachs and Allied Diseases Association and the Soulumination foundation in Seattle.