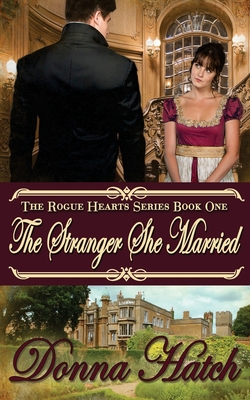 The Stranger She Married (Paperback)
Createspace Independent Publishing Platform, 9781494243722, 464pp.
Publication Date: November 21, 2013
* Individual store prices may vary.
Description
When her parents and twin brother die within weeks of each other, Alicia and her younger sister are left in the hands of an uncle who has brought them to financial and social ruin. Desperate to save her family from debtor's prison, Alicia vows to marry the first wealthy man to propose. She meets the dashing Lord Amesbury, and her heart whispers this is the gentleman she is destined to love, but his tainted past may forever stand in their way. Her choices in potential husbands narrow to a scarred cripple with the heart of a poet, or a handsome rake with a deadly secret.Cole Amesbury is tormented by his own ghosts and believes he is beyond redemption, yet he cannot deny his attraction for the girl whose genuine goodness touches the heart he'd thought long dead. He fears the scars in his soul cut so deeply that he may never be able to offer Alicia a love that is true. When yet another bizarre mishap threatens her life, Alicia suspects the seemingly unrelated accidents that have plagued her loved ones are actually a killer's attempt to exterminate every member of her family. Despite the threat looming over her, learning to love the stranger she married may pose the greatest danger...to her heart. And Cole must protect Alicia from the killer who has been exterminating her family before she becomes the next target.The Rogue Hearts Series: The Stranger She MarriedThe Guise of a GentlemanA Perfect SecretThe Suspect's DaughterPraise for Donna Hatch: "Donna Hatch is one of the masters of clean romance with electric tension and smokin' hot kisses." Reading is My Super Power Reviews"Written with heart and depth, Donna Hatch's books are absolute must-reads for any fan of swoon-worthy historical romance." Sarah M. Eden, USA Today best-selling historical romance authorDance with a duke, outwit pirates, save a kingdom, and fall in love. Believe in happily ever after.Note from the Author: This romantic story of loss and betrayal, forgiveness and redemption, and strangers marrying will leave you laughing, crying, and swooning. Sprinkled liberally with suspense, mystery, and heart-melting kisses, this is not your ordinary historical tale of an arranged marriage nor of redeeming the rakes. Fans of Victorian and Regency Eras as well as those seeking clean and wholesome romance with plenty of chemistry will love this story.
About the Author
Author of Historical Romance and Fantasy, award-winning author Donna Hatch's writing awards include the coveted Golden Quill Award, the International Digital Award, and the Reader's Choice award. A native of Arizona, who recently transplanted to the Pacific Northwest, she is the mother of six busy children. All of her heroes are patterned after her husband of over 20 years, who continues to prove that there really is a happily ever after.