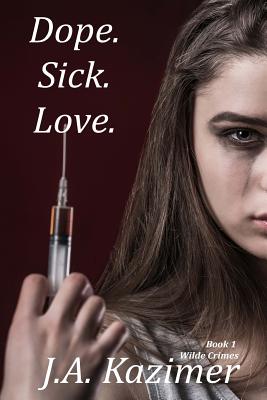 Dope Sick (Paperback)
A Love Story
Createspace Independent Publishing Platform, 9781494309121, 264pp.
Publication Date: November 27, 2013
* Individual store prices may vary.
Description
Dope. Sick. Love., Book 1 in the Wilde Crimes series finds former rockstar, Colin Wilde, dying on a dirty bathroom floor, a needle in his arm and the name of his murdered wife on his bluish lips. Two years later, struggling to stay clean, Colin meets Zoe, a woman with ties to his past. A past he can't escape. Determined to make a comeback he soon becomes embroiled in a world of sex, drugs and murder.
About the Author
J.A. Kazimer is a writer living in Denver, CO. Books include The Junkie Tales, The Body Dwellers, CURSES! A F***ed-Up Fairy Tale, Holy Socks & Dirtier Demons, Dope Sick: A Love Story, SHANK, Froggy Style: A F***ed Up Fairy Tale, The Assassin's Heart, and The Fairyland Murders. When Kazimer isn't looking for the perfect place to hide the bodies, she spends her time surrounded by cats with attitude and a little puppy named Killer. Other hobbies include murdering houseplants, kayaking, snowboarding, reading and theater. After years of slacking, she received a master's degree in forensic psychology, which she promptly ignored and started writing novels for little to no money. In addition to studying the criminal mind, Kazimer spent a few years spilling drinks on people as a bartender and then wasted another few years stalking people while working as a private investigator in the Denver area. You can find her online, much to often, at jakazimer.com
or
Not Currently Available for Direct Purchase