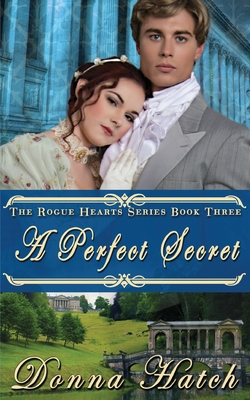 A Perfect Secret (Paperback)
Createspace Independent Publishing Platform, 9781494496999, 348pp.
Publication Date: December 14, 2013
* Individual store prices may vary.
Description
Desperate to protect her father from trial and execution, Genevieve breaks off her engagement with Christian Amesbury and marries a blackmailer. After a year of marriage, she flees her husband's violent domination only to have fate bring her back to Christian. Just when she thinks she's started a new life of safety and freedom, her husband tracks her down, stalks her, and threatens everyone she loves.Still brokenhearted over Genevieve's betrayal a year ago, Christian can't believe she's come back into his life--and worse, that she's done it on the anniversary of his brother's death, a death that haunts him. Though tempted to throw her back into the river where he found her, he can't leave her at the mercy of the terrifying man she married.When her husband torments Genevieve and puts the Amesbury family in danger, Christian will do anything to protect those he loves...anything except give Genevieve another chance to break his heart.Praise for Donna Hatch"Donna Hatch is one of the masters of clean romance with electric tension and smokin' hot kisses." Reading is My Super Power Reviews"Recommended to all historical romance fans."Julie Whiteley, InD' Tale Magazine"Written with heart and depth, Donna Hatch's books are absolute must-reads for any fan of swoon-worthy historical romance."Sarah M. Eden, USA Today best-selling historical romance author"Donna Hatch is one of the masters of clean romance with electric tension and smokin' hot kisses." Reading is My Super Power Reviews"No one creates chemistry between Regency Historical characters better than Donna Hatch. If you want a "sweet" read, but with lots of sizzle, you have to read her books."Author Carol A. SpradlingOther Titles by Donna Hatch: The Stranger She MarriedThe Guise of a Gentleman"A Perfect Match" A Perfect Secret The Suspect's Daughter Courting the Countess Courting the Country Miss Heart StringsChristmas Secrets "A Christmas Reunion""A Winter's Knight" "Mistletoe Magic" Queen in Exile (out of print) "The Matchmaking Game" "When Ship Bells Ring""Constant Hearts" "Emma's Dilemma" "The Reluctant Bride" "Sabrina's Hero" "Troubled Hearts" "Unmasking the Duke" "A Wager for Love.
About the Author
Author of Historical Romance and Fantasy, award-winning author Donna Hatch is a sought-after speaker and workshop presenter. Her writing awards include the Golden Rose and the prestigious Golden Quill. Her passion for writing began at age 8 she wrote her first short story, and she wrote her first full-length novel during her sophomore year in high school, a fantasy which was later published. In between caring for six children, (7 counting her husband), her day job, her work as a freelance editor and copywriter, and her many volunteer positions, she still makes time to write. After all, writing IS an obsession. All of her heroes are patterned after her husband of over 20 years, who continues to prove that there really is a happily ever after.