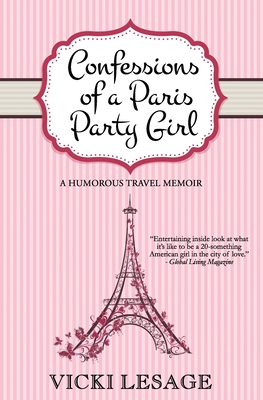 Confessions of a Paris Party Girl (Paperback)
Createspace Independent Publishing Platform, 9781494701529, 276pp.
Publication Date: January 12, 2014
* Individual store prices may vary.
Description
A sassy American embarks on a new life in France in this #1 Amazon Best Seller... When newly-single party girl Vicki moves to Paris, she hopes to indulge in wine, stuff her face with croissants, and fall in love. It proves to be much more difficile than she imagined. In this laugh-out-loud memoir, this cheeky storyteller recounts the highs and lows of her life in the City of Light. Outspoken and shamelessly honest, Vicki makes you feel as if you're right there in Paris stumbling along the cobblestones with her.
Will she find love? Will she learn to consume reasonable amounts of alcohol? Will French bureaucracy ever cut her a break?
"An entertaining inside look at what it's like to be a 20-something American girl in the city of love." - Global Living Magazine
Confessions of a Paris Party Girl is a delicious cocktail of the humor of Tina Fey, the candor of Amy Poehler, and the self-deprecating charm of Mindy Kaling. You'll feel as if you're chatting over a bottle of wine with your new best friend.
Interview with the Author
What was your inspiration to write the American in Paris series?
After a few too many drinks, I either turn to storytelling or karaoke. I'm much better at storytelling-or so my friends say They encouraged me to put my tales to paper, and thus was born my series of memoirs, essentially a collection of funny travel stories.
OK, so they're technically memoirs. But they seem different than traditional memoirs. How would you categorize them?
Most bestselling memoirs are written by celebrities, who already have a huge audience. I had to choose a different angle in order to stand out, so I went for humor. I hope people enjoy my stories, which have been compared to chick lit except they're true I also talk about misadventures on my solo travels, so my books would appeal to anyone who likes travel humor. Confessions of a Paris Party Girl is a humorous coming of age memoir, while Confessions of a Paris Potty Trainer could fall under parenting humor or pregnancy humor.
Yikes, those are practically spoilers
Sorry Between my French last name and my author bio, I think the cat might already be out of the bag. However, even if you have a rough idea of how it all ends, you have no idea how rough it was getting there until you read my books
There are so many memoirs, especially ones about Paris. Why should I choose yours?
It's true, there are some really great Paris memoirs. The fact that I have read (and enjoyed ) so many myself makes me think it's a popular genre for a reason. We're always thirsty for another sip of Paris, to travel to the City of Light through the pages of a book, to fall in love with Paris again
So this book is part of the American in Paris series?
Yep Each book can stand alone, but like fine wine and cheese they go great together. You can read them in any order, though I'd recommend:
Book 1: Confessions of a Paris Party Girl
Book 2: Confessions of a Paris Potty Trainer
Book 3: Christmas Confessions & Cocktails
Book 4: Petite Confessions
Book 5: Confessions & Cocktails
If you enjoy a good laugh and want to see the crazy things that happened to this American girl living in France, you'll enjoy the American in Paris series
About the Author
Amazon best-selling author Vicki Lesage proves daily that raising French kids isn't as easy as the hype lets on. In her snippets of spare time, she writes, sips bubbly, and prepares for the impending zombie apocalypse. She lives in St. Louis (after 11 years in Paris) with her French husband, rambunctious son, and charming daughter, all of whom mercifully don't laugh when she says "au revoir." She penned the American in Paris series in between diaper changes and wine refills. You can read more at VickiLesage.com.