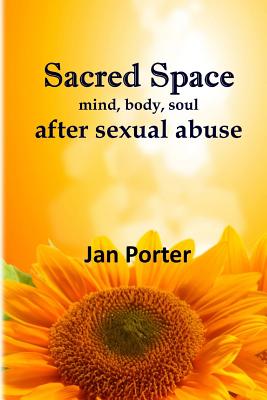 Sacred Space (Paperback)
Mind Body Soul After Sexual Abuse
Createspace Independent Publishing Platform, 9781494772420, 318pp.
Publication Date: December 14, 2013
* Individual store prices may vary.
Description
"Jan Porter's 'Sacred Space' is set to change the lives of countless people who have suffered from sexual abuse-people who otherwise would be left misunderstood and the object of prejudice-as well as enlighten the rest of us enough to embrace acceptance and proactive healing." Meaghan - New York Book Pundit "Sacred Space, mind, body and soul after sexual abuse" By; Jan Porter "Your body, mind and soul are Sacred Space. Shifting wounds into wisdom and loving life, is the art of inspired transformation. The journey out of the pain of sexual abuse to wholeness is in boldly allowing insights and inspiration to bring forth authentic empowerment, fulfillment and inner peace. Sacred Space offers insights and resources from those who have been there and bounced back better than before. The power of your ancestors and the magic of the cosmos is in your DNA " Amazon Best Seller *Table of Contents: Chapter 1. Your Happiness Is Sacred: Sacred Space, Your happiness is sacred, Stay safe tips, Irene, Lizzie. Chapter 2. Understanding Sexual Abuse/Assault: Steven, What exactly is sexual molestation abuse assault?, Coaxing and approach of offender sexual predators, Common difficulties and blocks to intervention and recovery, Legal considerations. Chapter 3. The Healing Process: Stress management, Journaling, Expect good changes, What to look for in a good program, The counselling process, Trust and rapport, Background information; sharing your story, Discussing key problems, 'Rape' a poem by; Johanna Ryan Guy, Offender's perspective, Family and social issues, Offender confrontation options, Stuck points and new skills, Higher healing concept, Randi, 'About Abuse' a poem by; Dorothy Booker. Chapter 4. Working through Key Issues, Transformation: Shame and Guilt, Anger, Forgiveness, Lydia, David, Carol, Dealing with shame and re-learning responsibility Lynda, Angela, Tom, Annie, Lynn, Kim, Martin, Dealing with fear and adversity, Ellen, Carolyn, Ask yourself. Chapter 5. Let go and uplift: Options to cope, William. Chapter 6. Daily Living Skills: The bigger picture, Good feelings versus bad feelings, Information and the power of thought, Boundaries and sacred space, Basic bill of human rights, Joy from depression, Free your mind and spirit, Grief, Addictions, Relationships, Sex versus lovemaking, Healthy Supports, Assertive personal power, Myth of offender profile, Reg' 'Angel on a Harley', 'Christmas In Prison' a poem by; Dan Davison, Personal responsibility and control issues, Spiritual guide; from stress to happy. Chapter 7. Self-Awareness Exercises and Soul Boosters: Mood and soul boosters, Self-awareness, Treasure Hunt, Affirmations, Intuition and spiritual principles, The power of love, Toward a better life, Goal setting, Spiritual Growth. Chapter 8. Basking with your Ancestors, Guides and Angels: Overview; connecting divine flow and communing with ancestors, guides and angels, Prayer invocation, Guided meditation journey, Chapter 9. Alternative Resources. Bibliography. Inspiring Quotes. Author's Note. *For Reviews/Readers comments, more information on this book and Jan's work or simply to connect: www.InspiredSoulWorks.com, Twitter, GoodReads, YouTube #Spirituality, #PersonalGrowth, #Women'sAbuse, #selfHelp, #MentalHealth, #SexualAbuse, #Survivor, #healing, #trauma, #empowerment, #inspiration, # howTo, #OverCome, #wholeness, #SacredSpace, #5StarReviews, #bestseller, #practical, #wholeness, #resources, #MeToo.
About the Author
Jan Porter is a survivor, workshop facilitator and author with over thirty years experience in human services and sexual abuse counseling who specializes in empowerment and inspiration. Jan is the founder of Soul Works Gifting Foundation with several published books and numerous other projects in various stages of completion, a workshop facilitator and freelance contributor to a handful of magazines. Jan considers herself more of a philosophical ponderer of human nature, quantum physics, spirit world, nature and of the cosmos, hence her writing is non-secular. She aims to share thought provoking human conditions, at times touch on that bigger picture of spirituality, mystical, ancient traditions or quantum physics to offer inspiration and empowerment. *FYI: this book is the insights and wisdom I wish I had as a young one! Connect with Jan: www.inspiredsoulworks.com, GoodReads, YouTube, Twitter, G]
or
Not Currently Available for Direct Purchase