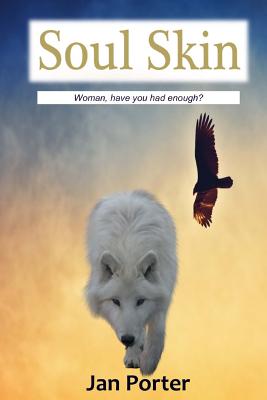 Soul Skin (Paperback)
1000 Lifetimes, 1000 Sacred Dream Journeys
Createspace Independent Publishing Platform, 9781494773595, 382pp.
Publication Date: December 21, 2013
* Individual store prices may vary.
Description
"'Soul Skin' can best be described as bliss in literary form-it is a mind-bending, sweeping story of impossible journeys made so believable by Jan's incredible literary talent." Meaghan - New York Book Pundit "Woman have you had enough?" Soul Skin 2nd Edition. An inspiring tale of hardship, wisdom and discovery, Soul Skin is a celebration of those of us who do not fit into 'normal'. Deeply moving, Soul Skin is an odyssey of many lifetimes, that summons our own personal journeys. Life overflows with problems as Navi is caught in between two worlds, of loss, destiny and self-discovery. Striving to cope with; a child's cancer, marital heartbreak, a stifling rural church community, a scandalous love affair, job loss, menopause and a haunting dark shadow nemesis, Navi is left heart broken and shamed. Lost and alone with her daughter, she is comforted by her dead Grandmother and a mysterious soul skin man. Slammed into impossible challenges, insights come through ancient sisterhood teachings and sacred dream journeying to historic events in; a Nazi death camp, a pre-civil war deep south, indigenous North America, as Joan of Arc, audience with Lord Byron, as a wolf mate and more. Throughout, Navi candidly explores life with wit, yet it is the love bond of her daughter, Gran and soul skin man that carries her through. Following the power of fate and finding the freeing truth of who you truly are, can be a magical journey of remembering your; innate heart wisdom, connection with the spirit world of possibilities and bring forth your life mission. If you don't fit in, maybe, you came to change the course of history. * Jan Porter is a seasoned writer and author of numerous self counsel books and novels. www.inspiredsoulworks.com *Connect with Jan via: www.inspiredsoulworks.com, GoodReads, G+, YouTube, Twitter, KindleMojo, WorldPulse. shamanism, metaphysics, spiritual journey, dream journeys, hardship, self discovery, literary fiction, novel, nature, spirit world, sisterhood, overcoming adversity, wisdom, visionary, prophecy, mythology, personal growth, new age, new thought, inspiration, empowerment, history.
About the Author
Author Bio in short: Jan Porter finds the magic of the past and cosmos within every day unsung (s)heroes and the human condition to share with you. She is a philosophical ponderer of human nature, spirit world and nature, hence she does not hold to any one particular tradition as a one higher truth or one size fits all. Viva la diversity! Jan aims to share thought provoking human conditions, touch on that bigger picture of spirituality, mystical and ancient traditions through the ancient art of storytelling; real people, unsung unlikely heroes and a touch of the magical. Jan recalls as a young child, being held captivated with magical yarns of indigenous cultures, saints, mysticism and shamanism and Robert Service's tales of the north northern wilderness . As a teen, she found old battered copies of Voltaire's 'Candide', Margaret Caven's 'I Heard the Owl Call My Name' and anything ancient mystical shaman which her awkward geeky adolescent soul hungered for. Inspired, she first dabbled with typewritten short stories, articles and poetry founding a funky alternative secondary school newspaper 'Cool School News'. After many years of work in Human Services, evening ferocious spiritual, quantum or philosophical reading while raising children (all much food for character and story seeds) followed by a long arduous post-secondary completion of world religions, philosophy and spiritual sciences, she is carving a new path that takes all of the good of our ancestors and the hope for tomorrow to make a splash! Jan aims to offer insights and wisdom of our human condition with higher insights and to empower inspire and is the founder of the ad hoc Soul Works Gifting Foundation. *For more information on Jan Porter's work or to Connect via www.inspiredsoulworks.com, GoodReads, Google+, Twitter, Kindle Mojo, YouTube
or
Not Currently Available for Direct Purchase