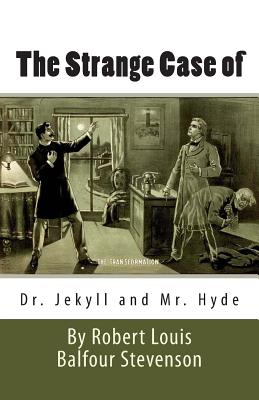 The Strange Case of Dr. Jekyll and Mr. Hyde (Paperback)
Createspace Independent Publishing Platform, 9781494838799, 74pp.
Publication Date: January 8, 2014
Other Editions of This Title:
Paperback (2/17/2009)
Paperback (11/8/2011)
Paperback (7/16/2019)
Paperback (3/16/2011)
Paperback (1/12/2013)
Paperback (10/18/2011)
Paperback (8/14/2008)
Paperback (7/14/2011)
Paperback (2/6/2016)
Paperback (11/27/2012)
Paperback (11/29/2012)
Paperback (4/7/2016)
Paperback (12/4/2016)
Paperback (11/25/2011)
Paperback (1/1/2006)
Paperback (11/13/2009)
Paperback (8/1/2005)
Paperback, Large Print (8/14/2008)
Paperback (9/27/2018)
* Individual store prices may vary.
Description
This intriguing combination of fantasy thriller and moral allegory depicts the gripping struggle of two opposing personalities - one essentially good, the other evil - for the soul of one man. Its tingling suspense and intelligent and sensitive portrayal of man's dual nature reveal Stevenson as a novelist of great skill and originality, whose power to terrify and move us remains, over a century later, undiminished.
About the Author
Robert Louis Balfour Stevenson (1850-1894) was a Scottish novelist, poet, essayist and travel writer. His best-known books include Treasure Island, Kidnapped, and Strange Case of Dr Jekyll and Mr Hyde. A literary celebrity during his lifetime, Stevenson now ranks among the 26 most translated authors in the world. He has been greatly admired by many authors, including Jorge Luis Borges, Ernest Hemingway, Rudyard Kipling, Marcel Schwob, Vladimir Nabokov, J. M. Barrie, and G. K. Chesterton, who said of him that he "seemed to pick the right word up on the point of his pen, like a man playing spillikins." Stevenson was a celebrity in his own time, but with the rise of modern literature after World War I, he was seen for much of the 20th century as a writer of the second class, relegated to children's literature and horror genres. Condemned by literary figures such as Virginia Woolf (daughter of his early mentor Leslie Stephen) and her husband Leonard, he was gradually excluded from the canon of literature taught in schools. His exclusion reached a height when in the 1973 2,000-page Oxford Anthology of English Literature Stevenson was entirely unmentioned; and The Norton Anthology of English Literature excluded him from 1968 to 2000 (1st-7th editions), including him only in the 8th edition (2006). The late 20th century saw the start of a re-evaluation of Stevenson as an artist of great range and insight, a literary theorist, an essayist and social critic, a witness to the colonial history of the Pacific Islands, and a humanist. Even as early as 1965 the pendulum had begun to swing: he was praised by Roger Lancelyn Green, one of the Oxford Inklings, as a writer of a consistently high level of "literary skill or sheer imaginative power" and a co-originator with H. Rider Haggard of the Age of the Story Tellers. He is now being re-evaluated as a peer of authors such as Joseph Conrad (whom Stevenson influenced with his South Seas fiction), and Henry James, with new scholarly studies and organizations devoted to Stevenson. No matter what the scholarly reception, Stevenson remains popular worldwide.