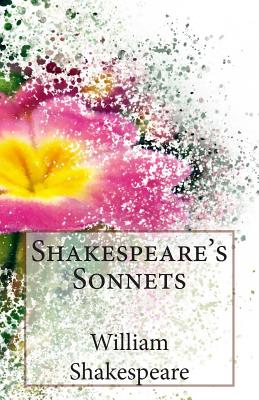 Shakespeare's Sonnets
Paperback

* Individual store prices may vary.
Other Editions of This Title:
Digital Audiobook (10/9/2005)
Paperback (12/4/2012)
Paperback (12/4/2012)
Paperback (8/8/2020)
Paperback (11/9/2020)
Paperback (11/30/2020)
Paperback (11/1/2008)
Paperback (2/24/2021)
Paperback (6/22/2013)
Paperback (3/11/2016)
Paperback (11/24/2015)
Paperback, German (5/14/2014)
Paperback (6/22/2017)
Paperback (5/10/2015)
Paperback (8/8/2020)
Paperback (12/6/2019)
Paperback (11/15/2020)
Description
Shakespeare's sonnets are a collection of 154 sonnets, dealing with themes such as the passage of time, love, beauty and mortality, first published in a 1609 quarto entitled SHAKE-SPEARES SONNETS: Never before imprinted. (although sonnets 138 and 144 had previously been published in the 1599 miscellany The Passionate Pilgrim). The quarto ends with "A Lover's Complaint", a narrative poem of 47 seven-line stanzas written in rhyme royal. The first 17 poems, traditionally called the procreation sonnets, are addressed to a young man urging him to marry and have children in order to immortalize his beauty by passing it to the next generation. Other sonnets express the speaker's love for a young man; brood upon loneliness, death, and the transience of life; seem to criticise the young man for preferring a rival poet; express ambiguous feelings for the speaker's mistress; and pun on the poet's name. The final two sonnets are allegorical treatments of Greek epigrams referring to the "little love-god" Cupid. The publisher, Thomas Thorpe, entered the book in the Stationers' Register on 20 May 1609: Tho. Thorpe. Entred for his copie under the handes of master Wilson and master Lownes Wardenes a booke called Shakespeares sonnettes vjd. Whether Thorpe used an authorised manuscript from Shakespeare or an unauthorised copy is unknown. George Eld printed the quarto, and the run was divided between the booksellers William Aspley and John Wright. The sonnets are almost all constructed from three four-line stanzas (called quatrains) and a final couplet composed in iambic pentameter. This is also the meter used extensively in Shakespeare's plays. The rhyme scheme is abab cdcd efef gg. Sonnets using this scheme are known as Shakespearean sonnets. Often, the beginning of the third quatrain marks the volta ("turn"), or the line in which the mood of the poem shifts, and the poet expresses a revelation or epiphany. There are a few exceptions: Sonnets 99, 126, and 145. Number 99 has fifteen lines. Number 126 consists of six couplets, and two blank lines marked with italic brackets; 145 is in iambic tetrameters, not pentameters. There is one other variation on the standard structure, found for example in sonnet 29. The normal rhyme scheme is changed by repeating the b of quatrain one in quatrain three, where the f should be.
Createspace Independent Publishing Platform, 9781494917883, 92pp.
Publication Date: January 5, 2014