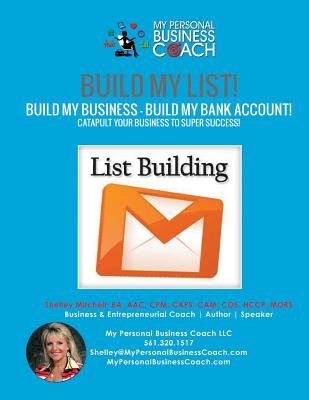 Build My List! - Build My Business! - Build My Bank Account! (Paperback)
Using List Building Strategies, Email Marketing, Webinars and much more to Track and Wat
Createspace Independent Publishing Platform, 9781494943295, 52pp.
Publication Date: January 27, 2014
* Individual store prices may vary.
Description
List building the easy, affordable way Simple step-by-step strategies and tactics, resources, fill-in-the-blank templates and trackers you will LOVE on how to grow your list in person and online for very low cost and free. Every business owner, author, speaker, coach, or entrepreneurs needs this. This workbook is for small business owners, entrepreneurs, sales people, leaders, and executives or anyone who wants to build their list quickly and to engage in more relationships in order to grow and catapult their business in order to make more money and reach their dreams and goals. It includes the basics in using List Building Strategies, Email Marketing, Webinars and much more to Track and Watch Your INCOME GROW Easy word-for-word templates that include autorepsonders for launching your promoting your webinar or teleclass, thank you emails, follow up emails, reminder emails, a Joint TeleSeminar checklist with step-by-step instructions and deadlines and a clever List Building Planner and Tracker so you can watch your numbers grow Used for marketing and promoting primarily service-based businesses to include coaches, authors, speakers, healers and direct sales. For a free mp3 download as a gift with your purchase on HOW TO Use this workbook to build your list, email us at support@mypersonalbusinesscoach.com for details.