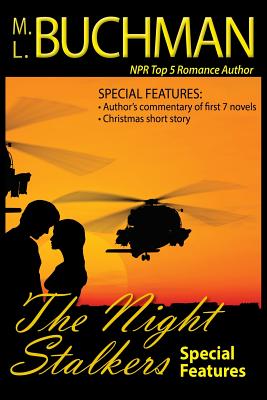 The Night Stalkers Special Features
Paperback

* Individual store prices may vary.
Description
Author's commentary on the origin, backstory, and writing of the acclaimed military romantic suspense series: The Night Stalkers. "Top 10 Romance of 2012." - Booklist, The Night Is Mine "Top 5 Romance of 2012." -NPR, I Own the Dawn "Best 5 Romance of 2013." -Barnes & Noble, Take Over at Midnight Like Special Features on a DVD. Find out how: -Who are the Real-life Night Stalkers -How the series was born -Research madness -How Emily got her gun and discovering her series teammates -Sniper thinking -Integrating tech-without killing the reader -Daniel, Frank, and Peter...and why they insisted on their stories being told -Dilya, the character who refused to be written out of the series Story, Characters, Research, Craft... In this frank, open exploration, M.L. discusses the origin of ideas, characters, and plots. The author investigates finding "story" and working to translate that to the page. The writing process itself falls under close scrutiny, both the pitfalls and the triumphs. Also includes the Night Stalkers Christmas short story: Ghost of Willow's Past.
Createspace Independent Publishing Platform, 9781495249341, 204pp.
Publication Date: January 17, 2014
About the Author
M. L. Buchman has over 30 novels in print. His military romantic suspense books have been named Barnes & Noble and NPR "Top 5 of the year" and Booklist "Top 10 of the Year." In addition to romance, he also writes thrillers, fantasy, and science fiction. In among his career as a corporate project manager he has: rebuilt and single-handed a fifty-foot sailboat, both flown and jumped out of airplanes, designed and built two houses, and bicycled solo around the world. He is now making his living as a full-time writer on the Oregon Coast with his beloved wife. He is constantly amazed at what you can do with a degree in Geophysics. You may keep up with his writing by subscribing to his newsletter at www.mlbuchman.com.